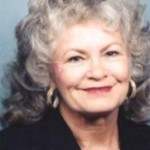 Patsy Lee Jackson, 80, of Livingston, Texas passed away July 12, 2014.
Patsy was born January 10, 1934 in Del Rio, Texas, the daughter of Charley and Cordelia Smith.
Patsy was a dedicated and loving wife and mother. She found joy in having her family together. She was a member of the Catholic Daughters at St. Joseph's Catholic Church in Livingston, TX.
She was preceded in death by her parents; husband of 58 years, Richard Jackson; brothers, Brad Smith, Steve Smith, and John Smith; sons, Ronald and Donald Jackson and grandson John Dustin Hoot.
Patsy is survived by her children, Jeanette Froyd (John); Patricia Hall (Gerald); Richard Jackson Jr. (Nina); John Jackson (Penny) and brothers, Pete Smith (Margie) and Mickey Smith (Pat); fourteen grandchildren, thirteen great grandchildren and numerous other relatives.
Family will receive friends Thursday, July 17, 2014 from 9:00 a.m.-10:00 a.m. at Crowder Funeral Home in Dickinson, TX with services beginning at 10:00 a.m. Interment will follow at Mt. Olivet Cemetery in Dickinson.