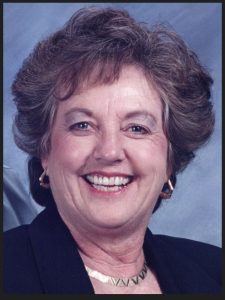 Patsy H. Ritterhouse, 80, passed away on Sunday March 19, 2023, in Webster, Texas.
She was born on May 21, 1942, in Hartselle, Alabama, to William Herman Vest and Ruby Estelle Wallace Vest.
Patsy is survived by her husband, Charles Lee Ritterhouse; daughter, Jennifer Lynn Ritterhouse and son-in-law Walter Paul Labys; daughter-in-law MeLesa Garrett Ritterhouse and spouse Jeffrey Patrick Buchanan; sisters, Ruthie Alyine Keenum, Peggy Appleton, Sandra Roden and spouse James Roden; brother, James Malcolm (Mac) Vest and spouse Evon Vest; grandchildren, Sophia Jane Labys and Stephen Henry Labys; and numerous family members and friends.
She is preceded in death by her Parents, William Herman and Ruby Estelle Wallace Vest; Son, Scott David Ritterhouse; Sisters, Imogene Hensley, Dorothy Smith; Brothers, William Copeland Vest and David Wendell Vest.
Patsy graduated from Danville High School in 1960. Upon graduation, she participated in a job fair and was immediately hired by the Army Ballistic Missile Agency, in Huntsville, Alabama due to her exceptional typing skills. She and her husband Charles met through mutual friends at the agency before Charles transferred in 1963 to the NASA Manned Spacecraft Center (later to become the Johnson Space Center) in Houston, Texas. They married in Hartselle, Alabama, on February 15, 1964, and Patsy transferred to the NASA Manned Spacecraft Center as well. She worked there until her oldest child was born and resumed her career after her youngest child left for college, earning many awards and promotions for her dedicated service. One award included an invitation to watch a space shuttle launch from Kennedy Space Center in Florida.
Prior to her retirement in 2012, Patsy was a Management Analyst supporting senior managers both at Johnson Space Center and NASA Headquarters as they responded to formal requests from the Office of Inspector General. She was able to perform this sensitive and sometimes controversial responsibility while maintaining the respect and admiration of those she supported.
Patsy had a passion for gardening, baking, and maintaining ties to distant and even nearby friends and family through frequent letters and cards. She was dedicated to Taylor Lake Christian Church, where she served as volunteer church secretary for many years and was an elder.
A Memorial Service will be held on Saturday, May 20, 2023, at 11:00 am CDT at Taylor Lake Christian Church, 1730 Old Kirby Road Seabrook, Texas.
In lieu of flowers those wishing to make a memorial donation in Patsy's memory may do so to Interfaith Caring Ministries, 151 Park Avenue, League City, Texas 77573.