Patricia Ann Rodgers Ostrowski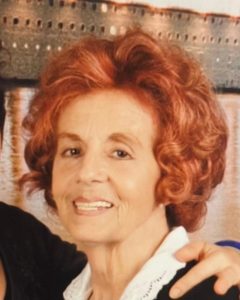 Patricia Ann Rodgers Ostrowski, 71, passed away Saturday, January 9th 2021 after bravely battling Parkinson's and dementia.  Born May 2, 1949 in Wilkes-Barre, PA. Patti was the daughter of James and Dorothy Rodgers.  She was a 1967 graduate of Somerville High School and a 1971 graduate of Somerset County College.  She specialized in psychiatric nursing and worked 23 years at Bayshore Medical Center in Pasadena, TX, retiring in 2000.
Patti married her husband, Paul, of 43 years, on September 2, 1972.  Paul preceded her in death in 2015.
Patti was also predeceased by her father, James Rodgers, and her brother, Rory Rodgers.
She is survived by her: mother, Dorothy Wolsiefer Rodgers; daughter, Katherine Ostrowski French (Daniel); son, Andrew Ostrowski; sisters, Mary Catherine Rodgers and Linda Rodgers; brother, James Rodgers (Darlene); sister in law, Margaret Rodgers; and one grandson, Robert Joseph French.  She also leaves behind many beloved nieces, nephews, and friends that brought so much joy to her life.
Patti was a caring and empathetic person who had a soft spot for animals, children, and the underdog.  She loved singing and playing her flute, and was a member of the choir at St. Bernadette's Catholic church in Houston.  Patti loved sharing the candy she always kept in her purse.  She inherited her colorful sense of humor from her father and passed it on to her children, nieces, and nephews.  She will be missed terribly.
A private visitation for family will be at Crowder Funeral Home, Webster, Texas with burial immediately following at Mt. Olivet Catholic Cemetery in Dickinson, Texas. In lieu of flowers, please make a donation to a charity of your choice.  Patti favored charities for veterans, pet adoption/rescue groups, and Parkinson's research.