Patricia Ann "Patsy" Monroe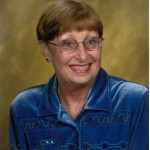 Patricia Ann "Patsy" Monroe, 68, of Texas City, passed away Saturday, March 29, 2014, at her residence. She was born on September 4, 1945, in Cameron, Texas, to John "Red" and Irene Murff. Patsy was very active in her community; she served as Membership Chair for the Heights Elementary PTA, and Chairman for the Texas City High School Band Booster Club for several years. She was also very involved in the city council PTA, her son's Cub Scouts, and for over 20 years was a part of the Tuesday Lunch Bunch with her closest friends. Patsy was a devoted wife, mother and grandmother who enjoyed being with her family and friends. Patsy was a proud Texan, enjoyed needle point and loved Texas history, and she always looked forward to seeing our Native Bluebonnets and Indian Paintbrushes in the spring.
Patsy is preceded in death by her mother and father. She is survived by her husband of 48 years; Claude M. Monroe, Jr. of Texas City, Texas; two sons; Claude "Trey" Monroe III and his wife Tammy of Katy, TX; and Mark Alan Monroe of Texas City, TX; three sisters; Carol Irene White and her husband Everett of Palm Harbor, Florida; Margaret Melinda Phillips and her husband Ted of Spring, Texas; and Robin Gayle Hartzler and her husband Bruce of Hampton, Georgia; six grandchildren; Jamie Marie Chilton and her husband Robert, Samantha Reiko Knowles, Heather Bailey Monroe, Dustin Ryan Monroe, Rebecca Lynn Monroe, Kassidy Ray Monroe, one great-grandchild; Robert Thomas Chilton, and many nieces and nephews.
A visitation will be held from 6:00pm to 8:00 pm Thursday, April 3, 2014, at James Crowder Funeral Home in La Marque. Services will be held at 10:00am, Friday, April 4, 2014, at the funeral home, with Pastor Wayne Clement officiating. Interment will follow at Hayes Grace Memorial Park Cemetery.
Pallbearers will include Trey Monroe, Mark Monroe, Patrick Phillips, Jeffrey Phillips, Ted Phillips, Everett White and Bruce Hartzler.
Memorials may be made to the Memorial Lutheran Church, the American Cancer Society, or the Alzheimer's Association.