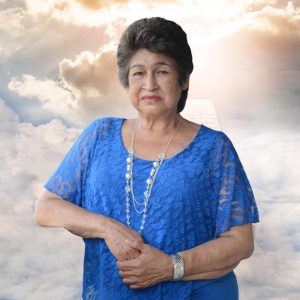 Patricia (Pat) Ann Martinez, 76, a lifelong resident of Houston, TX, passed away August 23, 2023 in Houston, TX. She was born July 12, 1947 in Port O'Connor, TX. Anyone who had the opportunity to know Pat can agree on one thing..she had a huge heart and was mom/grandma to all. Her willingness to help others never ceased to amaze those in her life, and her capacity for love was endless. She was loved by so many and will be missed dearly.
She reunites with her father Pete Ureste, mother Alene Resendez, step-father, Alfred Resendez Sr. and brother Alfred Resendez, Jr.
Patricia leaves behind her daughters: Paula Garcia, husband Uvaldo, Patricia Garza, and Veronica Lozano, husband Jesus; Sons: Rudolph Resendez Jr., Pete Resendez, wife Cynthia, Antonio Resendez, Manuel Resendez, wife Elizabeth, Apolinar Resendez, and Adrian Martinez; forty-one grandchildren, forty-nine great grandchildren and three great-great grandchildren; Sisters: Frances Moreno, husband Eziquel, Mary Montemayor, husband Jose, Linda Yanez, husband Jesus, JoAnn Almaguer, husband Armando, Susie Guerrero, husband Angel, and Freda Jimenez, husband Mario.
There will be a visitation from 5 p.m. to 8 p.m. Tuesday, August 29, 2023, with a rosary to begin at 6 p.m. at Crowder Funeral Home in Pearland. Funeral Service will begin Wednesday, August 30, 2023 at 10 a.m. in the chapel of Crowder Funeral Home in Pearland. Burial to follow at Houston Memorial Garden Cemetery in Pearland.
Pallbearers will be, Pete Resendez, Antonio Resendez, Manuel Resendez, Apolinar Resendez, Adrian Martinez and Uvaldo Garcia; honorary pallbearers, Hector Mendoza, Jr., Uvaldo Garcia, Jr., Roberto Rosales, Rudy Resendez III, Antonio Resendez, JR., and Adrian Joel Martinez.