Pamela (Pam) Cille Blair Laney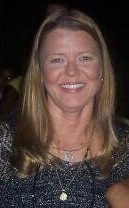 Pamela (Pam) Cille Blair Laney age 52, was a  resident of Brazoria, TX, formerly of Rosharon, TX, passed away on June 25, 2015, peacefully surrounded by her family after a 2 year battle with cancer. Pam was born on April 26, 1963 in Houston, TX, to Harvey and Rosalie Rendon Blair.
She was a graduate of Westbury High, Class of 1982. Her most recent job was a Field Clerk for Strike Construction. Pam was a devoted mother and grandmother, loved her kids and grandkids with all her heart and enjoyed spending time with family.
Pam is survived by her sister, Sandy (Buddy) Mansfield of Arcadia, FL; son, Cody (Alysa Garza) Laney; daughter, Blair (Dustin) Bridges; grandchildren: Braylynn & Braxton Bridges all of Brazoria, TX; brother, Mark (Phyllis) Chaney of Brookshire, TX; nephews: Mark (Angela) Blair of Rockwall, TX, Brandon Windsor & Tyler Mansfield of Arcadia, FL, Christopher & Cory Chaney and a niece, Rebecca Chaney all of Brookshire, TX; great nephews: Ryan & Cason Blair and great niece Brynlee Blair all of Rockwall, TX; special aunts Lucille Hall of Windsor, CO,  Carol Blair of Houston, TX and numerous aunts, uncles and cousins.
Pam is preceded in death by parents Harvey & Rosalie and her brother Mark Blair; grandparents Paul & LaVone James, Johnny & Toni Bustilloz and a special uncle Thomas Blair.
Visitation will be held on Monday, June 29, 2015 from 5 to 8 PM at Crowder Funeral Home in Pearland. Service will be on Tuesday, June 30, 2015 at 11 AM in the chapel of Crowder Funeral Home with Bill Cole to officiate. Interment to follow at Woodlawn Cemetery.
Pallbearers will be: Mark Blair, Brandon Windsor, Tyler Mansfield, Christopher Chaney Cory Chaney and CJ Silvera.