Oudia "Irene" Lawrence Ware
Oudia "Irene" Lawrence Ware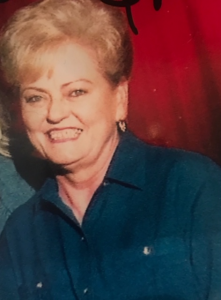 Irene Ware was called home very peacefully on Sunday, May 12, 2019, while in the care of A*MED Hospice at the Regent Care Center in League City, Texas.
Irene was born in Vivian, Louisiana, to Orbin and Myrtie Sue Lawrence on February 21, 1940.  She was preceded in death by her parents, both of her sons, Dolen Wayne Pearson and little Ricky Glenn Pearson, brother, Glenn Lawrence, sister Tina McCaskey, sister Jean Callaway and brother-in-law, Westley, and sister Jimmie Ann Reynolds.
This much-loved Momma was survived by daughter Brenda Sue Chance and husband Dean, daughter Linda Kaye Cordova; and daughter-in-law Octavia Pearson.
Also survived by her baby brother Wayne Lawrence and wife Mary; sister-in-law, Sandra Lawrence; and brother-in-law David Reynolds.
An adored "Meme", she was survived by 7 grandchildren, Donnie Pearson, Ronnie Pearson and wife Dorathy; Jonathon Pearson and wife Lauren; Jimmie Dolen Pearson and wife Emily; Taisy Brandon and husband Josh; Abigail Marie Cordova; and Chance Lorenzo Cordova.
9 great grandchildren Emily Sevier, Drysten Carroll, Hunter Pearson, Brandon Pearson, Fisher Pearson, Trysten Pearson, Rubin Pearson, Nevaeh Brandon and Joshua "Boogie" Brandon.
Also known as "Ms. Irene", "Aunt WeeWee", and "Weeder", she was loved and accepted into many families, but her own family was her passion.  Spending time with her family meant the most to her, always.
Her early years employment began in the mail room with American Indemnity in Galveston Texas.  Her two treasured careers were first as a florist at Texas Super in Texas City and lastly, she was so proud to be hired as a teller on the first day The Gulf Grey Park opened in 1992.
She was very much loved by all who knew her, no matter the nickname she answered to on any particular day and will be missed dearly.
Visitation will be held on Wednesday, May 15, 2019, from 6:00 pm to 8:00 pm and services will be at 2:00 pm on Thursday, May 16, 2019, at Crowder Funeral Home, 815 FM 517 Rd West, Dickinson, Texas
Those of you who knew Irene, knew how much she loved flowers; however, if you would rather, a donation in memory of Irene Ware can be made to
AMED Community Hospice
8900 Emmett F. Lowry Expressway, Suite 102,
Texas City, Texas 77581
Attn:  Hinojosa