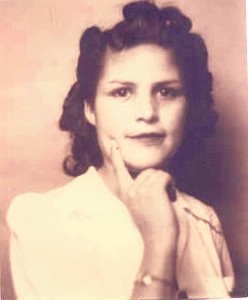 Otila Esquivel Contreras passed away after a brief illness on August 7, 2016 at the age of 95 years.  Otila was born to Emilio, Sr. and Tomasita Vidaurri Esquivel in Dennison, Texas on November 25, 1920. She was the fifth of twelve children.  Otila married Alfred S. Contreras on July 9, 1939 in Atascosa County.  Their first child, Edmund, died at birth and they raised four daughters.
At an early age, Otila left the ranch where she grew up to live with cousins in San Antonio because "she had learned everything the country school could teach her".   She was a strong and loving mother, grandmother, great grandmother, and great-great grandmother.  She was known for her sense of humor, work ethic and encouraging the pursuit of education.
She is preceded in death by her late husband, Alfred and her son, Edmund, her parents, and nine brothers and sisters.  She is survived by two brothers, Jesse Esquivel and wife Ricarda and Fred Ray Esquivel and wife Mary.  She is also survived by four daughters: Linda Contreras Bullock and husband Jim, Rachel Kay Cheatham, Emily Nicopoulos and husband Nick, and Janice Lowe.  Otila is also survived by grandchildren, Jeffrey Cunningham and his wife Julie, Leslie Hardee and her husband Joe, Jill Thomson and her husband Sean, Jana Darling and her husband Jim, Jessica Del Aguila and her husband Cesar Del Aguila, and Meagan Velasquez and her husband Eder; great grandchildren, Colton Cunningham, Keaton Cunningham, Sarah Hardee Neufeld, Jacob Hardee, Rebekah Hardee, Jack Thomson, Ella Thomson, Lucy Thomson, Jacqueline Whittington and Griffin Whittington, Julian Del Aguila and Menil Del Aguila; and her great-great grandchild Eden Cunningham. She is also survived by numerous nephews, nieces and friends. We extend much appreciation to Linda and Jim Bullock for their loving care in their home for the past 6 years. Also a special thanks to her niece Beatrice Rivera, friend Regina Pickett, and the staff at Orchard Park for their loving care in her last days.
Visitation –Crowder Funeral Home
Wednesday, August 10, 2016; 6:00-8:00 PM
Funeral Service
Thursday, August 11, 2016; 10:00 AM
Interment – Forest Park Lawndale