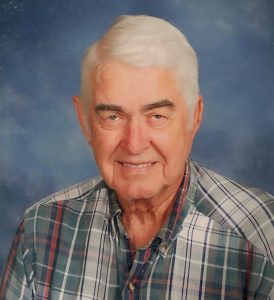 Orie Lee Montgomery, age 86, and longtime resident of Santa Fe, TX, passed away July 21, 2020, in Willis, TX, surrounded by his family.  Orie was born August 31, 1933, to Thelma Corine and Orie Clyde Montgomery in Galveston, Texas.  Following his graduation from high school he proudly served his country in the U. S. Marine Corps for several years. Soon after his honorable discharge Orie met and married Mary Agnes Dues Montgomery. He ran a dairy farm in the first years of their marriage, then became a real estate broker and opened Montgomery Realty and sold many homes to families throughout the area.  During this time he also expanded to designing and building homes.  Orie's hobby and love of tools led to his opening of Santa Fe Rent-All, a heavy equipment and tool rental company, which he owned and ran until his retirement.  He was a lifetime member of Arcadia Christian Church.
Orie was preceded in death by his parents, his stepfather Koy Ruben Beaver and his step siblings, Lois Allene Davis, and Sylvia Ruth Beaver.
He leaves behind to cherish his memory his beloved wife of 62 years Mary Agnes Dues Montgomery; daughter Darla Walker and husband George; sons Brad Montgomery and wife Michaelia, Mark Montgomery; brother Milam Montgomery and wife Helen; step siblings Ola Mae Dickey and Henry Milam Beaver; grandchildren, Christopher Walker, Paxton Walker, Ryan Montgomery, Connor Montgomery, Faith Montgomery, Rebekah Scales, Avery Scales, and Elizabeth Wicker.  He also left behind numerous nieces, nephews, and friends.
In his honor a public visitation will be held Sunday August 2, 2020 from 5:00 – 8:00 PM at the Crowder Funeral Home Chapel in Dickinson, TX.  Masks and social distancing are required.
A church funeral service will be held on Monday, August 3, 2020 followed by internment at Mt. Olivet Catholic Cemetery in Dickinson Texas.  Due to the current pandemic the service and internment will be private, invitation-only events for close immediate family.
Viewing of the service will be offered through live streaming and will begin at 10:00 AM and can be accessed at https://youtu.be/Rt8dxDm35yY
In lieu of flowers, anyone wishing to make a donation in Orie's name could do so to the American Diabetes Association, Arcadian Christian Church or any charitable organization of your choice.