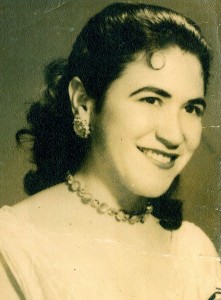 Oralia "LaLa" Mejia, 80, mother, sister, and grandmother of Catholic faith and a resident of Houston, TX for over 25 years, passed away on December 26, 2014. Oralia was born on May 28, 1934 in Weslaco, TX to Concepcion and Maria Hernandez.
She is preceded in death by her parents.
Oralia is survived by her children: Hilda Hernandez, Diana Gonzalez and her husband John Hernandez, Hugo Gonzalez and his wife Debbie, Luis Gonzalez and his wife Roshauna; sisters: Olivia Hernandez, Lupita Salazar and her husband Ramon, Lydia Savedra and her husband Daniel; 18 grandchildren and 12 great grandchildren.
Visitation will be on Monday, December 29, 2014 from 5:00 pm to 8:00 pm with a rosary to recite at 7:00 pm. Funeral Service will begin 2:00 pm on Tuesday, December 30, 2014 with Father Jim Courville who will be officiating, at Crowder Funeral Home in Pearland.