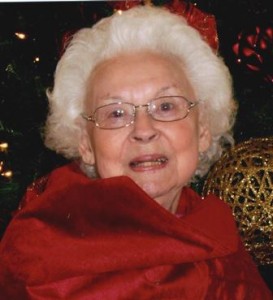 Olivia Katherine Johnson, 92, resident of Santa Fe, Texas passed away September 28, 2015 in Webster, Texas. She was born in Galveston February 3, 1923 to parents, Charles and Bessie Brown. She was a devoted wife, mother, grandmother and great-grandmother. She loved her family dearly.
She was preceded in death by her husband, Adolph Robert Johnson, parents, Charles and Bessie Brown, and brothers, Charles and Richard Brown.
Olivia is survived by her daughter, Linda Lee Green and husband Dwight; son, Mike Johnson and wife Sandra; sister-in-law, Glenda Brown; grandchildren, Dwayne, Jeff, Robert, and Bryan Green, Eliza and Travis Johnson; nine great-grandchildren; two nieces and one nephew.
Visitation will be held Thursday, October 1, 2015 from 5 pm – 8 pm at Crowder Funeral Home in Dickinson, Texas. Graveside service will be held at 1:00 pm Friday, October 2, 2015 at Galveston Memorial Park Cemetery in Hitchcock, Texas.