Olga Rose Micheletti Emmite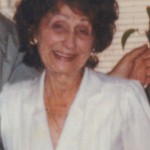 Our beloved Mother and Grandmother Olga Rose Micheletti Emmite went to be with her Precious Lord on October 8, 2014. She was born in Galveston Texas on August 10, 1916 to Antonio and Cecira Micheletti. Olga loved Galveston and resided there until she married and moved to Dickinson.
She graduated from Ursuline Academy in 1935 as Valedictorian, receiving a scholarship to the Metropolitan School of Business. One of her first jobs after graduation was with American National Insurance Co. in Galveston.
She was a member of Shrine of the True Cross Catholic Church and The Altar Society. She also loved the Italian tradition of the St. Joseph Altar and offered her home for that event and was active in her church's weekly prayer group. She was a devout Christian and loved the Lord throughout her life, praying always for others.
Some of her accomplishments include being a member of the American Red Cross, League of Women Voters and later opening her first Niblack Slenderizing Business. She was co-owner with her husband, operating and managing the Town and Country Club Motel &Restaurant in Dickinson. She continued to work as a bookkeeper for various companies until the age of 80.
She is preceded in death by her husband of 35 years, Salvatore J. Emmite, Father-Antonio G.Micheletti, Mother-Cecira Micheletti, Brothers-Victor Micheletti, Serio Micheletti and Anthony (Cheeso) Micheletti, Sisters-Iva Micheletti Emmite and Norma Micheletti Emmite.
She is survived by her children, Janice Emmite Tostado and husband Dan, Sherryn Emmite O'Toole, Elaine Emmite Collins, Marchelle Emmite Denman, Rachelle Emmite Schmidt and husband Rick, Salvatore J. (Sam) Emmite Jr. and wife Cathy. Twelve grandchildren: Clayton Myers, Christy Myers, Mark O'Toole and wife Melissa, Andrea O'Toole Chilton and husband Jeff, Brandon Collins and wife Sara, Matthew Emmite, Aimee Emmite Markert and husband Aaron, Kathlyn Emmite, Lindsey Schmidt Botting and husband Josh, Laurie Schmidt Click and husband Kyle, Adam Denman, Derek Denman and wife Sara, as well as thirteen great-grandchildren.
Olga was a faithful and loyal person to whomever she met. Her love for life, music and dance stayed with her throughout her years. She was the most delightful and happy person ever known and she never met a stranger. Her family went to her for comfort. Even through adversity she firmly believed that God is our Lord and Savior who heals. She prayed always for that healing and as she planted those seeds of healing they blossomed in her own life, giving her 98 long years. He has now blessed her with His ultimate healing. She will continue to dance in heaven and now she sees our Lord face to face. She left us with her most precious gift – Jesus. "Well done, my good and faithful servant" Matthew 25:21. Until we meet again, with love, your family.
A visitation will be from 3:00 to 5:00 pm on Sunday, October 12, 2014 at Crowder Funeral Home in Dickinson. Funeral service will begin Monday, October 13, 2014 at 11:00 am in the chapel of Crowder Funeral Home in Dickinson. Interment will be at Mt. Olivet Cemetery. Pallbearers will be: Clay Myers, Mark O'Toole, Brandon Collins, Adam Denman, Derek Denman and Joshua Botting.