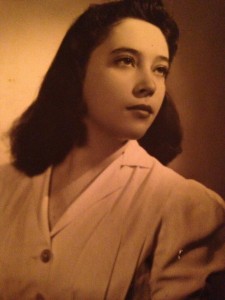 Ofelia Ramirez, 88, went to be with the Lord June 16, 2015 in Houston, TX. She was born October 31, 1926 in San Antonio to Romulo and Maria Lozano Jr.
She is preceded in death by her parents; son Willie Ramirez; sisters: Rose Strittmatter and Aurora Vela; brother, Romulo Lozano.
Mrs. Ramirez leaves behind her husband of 68 years, Guillermo Ramirez; daughters: Teresita Guinn, Linda Muniz and husband Noe, Lorraine Clodfelter and husband Tim and Rebecca Ramirez and husband Vahid; brothers: Dick Ramirez and wife Marcella, George Ramirez and wife Lori and Arthur Ramirez and wife Barbara; 14 grandchildren and 5 great grandchildren and also numerous of other family members and friends.
The family would like to acknowledge Maria Martinez and Jamie Thompson for their special love and care.
A memorial service will be held on Saturday, June 20, 2015 at 3:00 pm in the chapel of Crowder Funeral Home in Pearland.