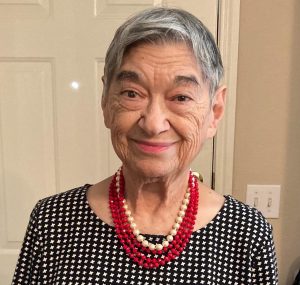 Ofelia M. Trevino was a cherished Wife, Mother and Grandmother during her beautiful 88 years.  She lived a long and full life through the moment of her death on May 12,2022 in League City, TX.
Ofelia and her twin sister, Berta, were born in Pawnee, Texas to Enrique and Guadalupe (Chacha) Martinez on October 7, 1933.  The girls had three older brothers Celestino, Pedro and Lauro.  Soon after the twin's birth, their beloved mother died as the result of a brief illness.  Pedro and Rosaura Martinez then adopted Ofelia.
Ofelia met and married the love of her life, Rodolfo D. Trevino (Rudy), who was in the United States Air Force, in 1953.  The couple traveled to many amazing locations during his years of service, then retired to sunny Florida in 1980.  The lovely pair was blessed with four children and later their growing families: son John Trevino and his wife Wanda, daughter Dolores Shimonek and her husband Steve, son Kenneth Trevino and his wife Rhonda, and son Tommy Trevino.  Ofelia was grandmother to Leah Ruiz, John Trevino Jr., Robert Ruiz, Wayne Trevino, Devin Trevino, Tristan Robertson, Mallory Olson and Taryn Odom.   She was further blessed to have fourteen great-grandchildren and two great-great-grandchildren!  Ofelia was so proud of them all and doted over them every chance she got.
Ofelia loved to play Yahtzee, Bingo, Dominoes, Bunco and Pinochle.  She was always up for a family game night until the very end.  Ofelia loved a good bargain and was always in the mood to Go Garage Sale-ing!  She often passed her time watching her "stories", crocheting, catching up with her lady friends, or reading her Bible.
Ofelia is proceeded in death by her parents, her husband Rudy, their son Tommy, her twin sister, and her brothers.
A celebration of life will be held at New Hope Baptist Church in League City, TX at a future date, to be announced.  In lieu of flowers, the family requests donations be made to the American Cancer Society (https://www.cancer.org/) or Alzheimer's Association (www.act.alz.org), organizations Rudy and Ofelia felt strongly about.