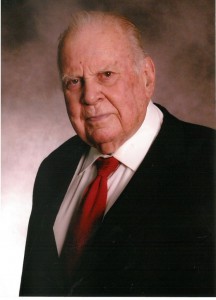 Norman A. Koneman Jr. of La Marque passed away peacefully in his home on January 16, 2016.
He was born January 5, 1919 in Houston, Texas to Norman A. and Ethel (Guinn) Koneman. He graduated from John Reagan High School in 1937. He attended the Rice Institute, now Rice University, from 1937 to 1941 when he graduated with a Bachelor of Science in Chemical Engineering. He lived in Houston, Texas until 1945.
Following graduation he was employed with Shell Oil Company at the Houston Refinery. In September 1945, he became employed by Pan American Refining Company, now Marathon, in Texas City. He joined The Equitable of New York on August 1, 1948 where he was a Financial Consultant until he retired in 2011.
At Pan American, he met the love of his life, the former Miss Norma Jean Wheeler from Ore City, Texas. They married on December 7, 1945, and enjoyed almost 70 years together.
Norman and Jean had the good fortune to travel to many parts of this world on trains, planes, ships and automobiles. They loved to regale us with their stories of places they've seen and people they've met.
He was actively involved in many organizations to include Rotary Club International, the City of La Marque Planning and Zoning Committee, TC/LM Chamber of Commerce, and Gideon's International just to name a few. He was a member of First United Methodist Church in Hitchcock. One of his favorite interests was to attend the annual class reunions at Rice University.
He was preceded in death by his parents, Norman and Ethel (Guinn) Koneman, brother, Maurice Guinn Koneman, wife Norma Jean Wheeler Koneman and his son Norman (Butch) Koneman, III.
Survivors include children George, Suzanne, Kerry and his wife Toni, his sister-in-law Christine Wheeler Lutz, brother-in-law Donald Denny and wife Judy, grandchildren Leslie Koneman, Kristen Koneman Huth and husband Michael, Jason Koneman, Jon Vincent Macaluso, Kaycee Koneman Hodges and husband Rick, and Michael Macaluso; nine great grandchildren; and a host of nephews, nieces and cousins.
The family has a deep appreciation to his caregivers Renee, Crystal and Vickie. A very special thanks to Michael Selzer, his pastor, and to A*Med Hospice.
Norman was a father, son, brother, nephew, cousin, uncle, grandfather, and great-grandfather. He was a brilliant man who will always be a blessing to those who knew and loved him. He believed the key to longevity was attitude. He was passionate about helping others. His final words were "it's been a joyous life".
Visitation will be at Crowder Funeral Home in La Marque on Wednesday, January 20, 2016 from 4PM to 6PM with a Celebration of Life immediately following at 6:00PM.