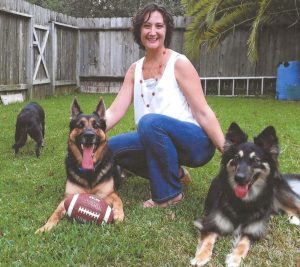 Nicole Polo, of League City, passed away peacefully and surrounded with love on Thursday, May 21, 2020 at her home in League City at the age of 38. She was born on May 31, 1981 in Worcester, Massachusetts. Her passion in life were her children Christian and Natalie. There wasn't anything she wouldn't do to make sure they both felt the love and care they both deserved. She enjoyed watching Christian become an accomplished trumpet player at many concerts and Natalie succeeding at swimming races and playing volleyball games. Watching them both grow up into kind, loving, and caring children gave her daily satisfaction in life. If anyone knew Nicole they would have quickly understood her love and passion for animals – especially dogs. She nurtured and cared for several injured animals so they could be adopted by others. Her own dogs could could not have asked for a better mother. She had a positive and radiant personality that attracted several life long friends. That beautiful soul will be remembered here on earth and live on in heaven for eternity. Nicole is survived by her loving husband Carlos, daughter Natalie, son Christian, mother Melanie Wells-Cogburn, sister Heather Cogburn, brothers Ricky Cogburn, Jr. and Joseph Wells-Cogburn and many other loving family and friends. A viewing with processional will begin on Thursday, May 28, 2020 at 9:30am with a Funeral Mass at 10:30am at St. Mary Catholic Church, 1612 East Walker, League City, Texas 77573.
Due to the COVID 19 public gathering restrictions, the Archdiocese of Galveston-Houston requires all visitors to wear a mask and maintain a social distance of six feet from attendees. Maximum occupancy is 250 guests. Upon entering the Church, attendees will be offered the opportunity of viewing, then kindly asked to enter the church to be seated. Please maintain a social distance during the processional, recessional and while seated in the church. Your assistance during this difficult time is greatly appreciated. Thank you for your cooperation and understanding.
A Guest Book will be limited. We invite you to leave your condolence below.