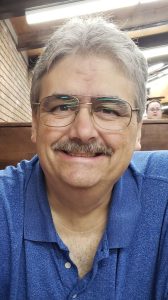 Nicky Lawson Bradford, of League City, passed away on Monday, January 9, 2023 in Webster, Texas at the age of 58. He was born on January 3,1965 in Germany to Lawson and Edna Bradford.
Nick had a thirst for knowledge. He loved to read and rarely went anywhere without his Kindle. He loved watching his dogs play chase and nap in his lap. His family was the most important thing to him. He loved his brothers and sisters deeply and loved to talk and visit with them as often as possible. His wife was the love of his life. He never tired of telling others about her and told her he loved her every day for over 35 years!
He was preceded in death by his parents Lawson and Edna and brother Jim Bradford. Nicky is survived by his wife Twyla, sisters Paula Edmundson of Dallas, Texas, Joan London of De Ridder, Louisiana, brothers Kenny Bradford of Duncanville, Texas, Scot Bradford of Denton, Texas, Randy Bradford of Keller, Texas, Sam Bradford of Sunnyvale, Texas and many other loving family and friends. A Memorial Service will be held on Sunday, January 15, 2023 at 10:00am at Crowder Funeral Home, 1645 East Main, League City, Texas 77573.