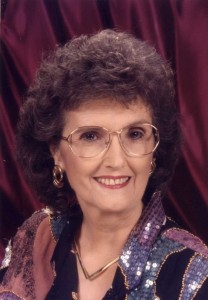 Nell L. Maxwell, 81, passed away April 4, 2015. She was born July 19, 1933 in Quitman, Louisiana to parents, Joe Tillman King and Lela Mae King.
She was a member of Highland Baptist Church.
She is survived by her husband Rev. Leon Maxwell; daughters, Jacquelyn White, Kathy & Vernon Bates, Lydia & John Hyde, and daughter-in-love Vickey & Robert Goerz; sons, Larry & Angela Maxwell, Randy & Julia Maxwell , and Scott  & Laura Maxwell; grandchildren, Nichole & Justin Black, Joseph & Angie White, Josh & Jenny Hyde, Caleb & Tressa Hyde, Rebekah & Terrel Johnson, Andrew Hyde, Brandi & Lance Stringfellow, Keith Bates, MicahShea & Taylor Fenner, Brady Maxwell, Stephen Maxwell, Joshua Maxwell, Tony & Leslie Maxwell, Josh Ward, Jayden Ward; and great grandchildren, Victoria, Savannah, Brianna, Allison, Hayden, Sadie, Cadence, Jackson, Anna, Davin, Jaden, and Elma Jane. Visitation will be held Wednesday, April 8, 2015 from 5:00 to 7:00 pm at Crowder Funeral Home, 851 FM 517 Rd. W, Dickinson, Texas. Services will be held 10:00 am, Thursday, April 9, 2015  at Highlands Baptist Church, 2908 Cedar Dr., LaMarque, Texas. Immediately following the service, the burial will be at Forest Park East Cemetery, 21620 Gulf Fwy, Webster, TX.
Serving as pallbearers are Josh Hyde, Caleb Hyde, Andrew Hyde, Stephen Maxwell, Brady Maxwell, Keith Bates, Tony Maxwell, and Joseph White. Honorary pallbearers are Vernon Bates, John Hyde, Elvin Ray Maxwell, Josh Ward, and Jayden Ward.
Memorial donations may be made to Jimmie Davis Tabernacle in Jonesboro, Louisiana.
Jackson Parish
Chamber of Commerce
P.O .Box 220 Jonesboro, La 71251. (memo) Donation for Jimmie Davis Tabernacle