Nelda Sue Unbehagen Davis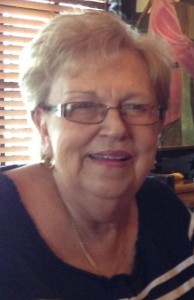 Nelda Sue Unbehagen Davis, 71, passed away on February 25, 2016 in Webster, TX.  She was born in October 16, 1944 in Galveston, TX. Mrs. Davis has been a resident of Santa Fe since 2001; she is formerly of La Marque and Galveston.
Mrs. Davis attended First Baptist Church-Alta Loma; she worked for the scholarship program at the Moody Foundation as a Scholarship Administrator for 20 years. Her passion was to paint in which she won many awards for. She also loved her Monday morning card group, and loved going for rides and walks on the beach. She also loved spending time with her grandchildren
She is preceded in death by her parents, Otis and Dorcas Unbehagen; sisters: Helen Rose and Evelyn Rouse; brother, John Unbehagen.
She is survived by her husband of 51 years, Virgil W. Davis Jr.; daughters: Kelly Henry and husband Aaron and Tammy Patterson; son, Trey Davis; grandchildren: Hunter Davis, Taylor Nolte, Britney Nolte, Katie Henry, Hollie Davis, Andrew Henry and Bailey Patterson; one great-grandchild on the way, Callie Ann Cabarubio; brothers: O.C Unbehagen and wife Jean, Teddy Unbehagen and wife Phyllis; numerous nieces and nephews.
A visitation will be held on Monday, February 29, 2016 from 5-8 pm at Crowder Funeral Home in Dickinson, 851 FM RD West Dickinson, 77539. Funeral service will be held Tuesday, March 1, 2016 at 10 am at Crowder Funeral Home in Dickinson. Pastor Donnie Beebe to be officiating. Burial will follow at Galveston Memorial Park Cemetery.
In lieu of flowers, please make memorial donations to: American Cancer Society, P.O. Box 22478 Oklahoma City, OK 73123, https://donate.cancer.org/index.