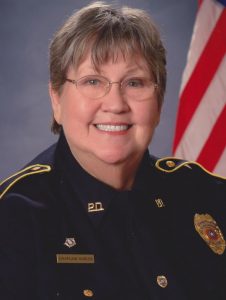 Nelda Harles, 83, of Alvin passed away on Sunday, September 24, 2017 in Houston. She was born on August 29, 1934 in Hamilton, Texas to Alta and Floyd Appleby.
Nelda was supported daily by her daughter, Terri Harles, grandson, Robert A. Harles, his wife Trish E. Harles, great-granddaughter, Aurora B. Harles and step-great-grandson Chase M. Linney.
Besides being a Wife, Mother, Grandmother, Great-Grandmother and Great-Great-Grandmother; she dedicated her life to serving others. Nelda worked for Crime Stoppers, coordinated volunteer programs to build handicap ramps, collected and distributed toys at Christmas time and trained to become a Chaplain. Chaplain Nelda Harles started working as a Chaplain with the Dickinson Police Department in 2003. In October of 2007, she was hired as a full time Crime Victim Liaison and retired in March 2017. Throughout her career she was one of the lead coordinators for Dickinson's Annual Thanksgiving Dinner Programs, the Blue Santa Program, was a huge part of Crime Victims Weeks, she volunteered at the Carole S. Young Medical Facility TDJC and along with a partner spearheaded a prison ministry that continues today.
In all the programs and functions Nelda participated in she always found time for each and every person involved.
She married Robert Louis Harles and became mother of 4 children; Terri Harles of Texas, Sherri Harris (Darwin) of Indiana, Bobby Harles (Seletia) of Texas and Merri Cole of Minnesota.
Nelda was preceded in death by her parents, 2 brothers, 2 sisters, her husband and daughter Sherri Harris. Nelda is survived by a host of family members.
Her family and friends will miss her greatly.
A Funeral Service will be at 2:00pm on Saturday, September 30, 2017 at the Crowder Funeral Home in Dickinson, Texas with Tom Medlin officiating. Burial will follow at Galveston Memorial Park in Hitchcock, Texas.
Online condolences can be made to www.crowderfuneralhome.com