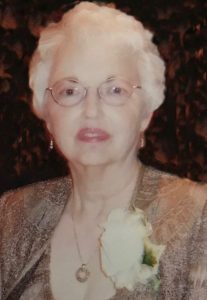 Nelda Faye Diehl, 86, resident of Canyon Lake, Texas passed from this life, Wednesday October 11, 2017 at 11:25 pm, surrounded by family. She was born October 4, 1931 to proud parents Aaron and Era Driver in Etoile, Texas.
She had a full life, starting as a loving wife, mother, grandmother, great grandmother and great-great grandmother, and still finding time for a career in the medical profession as a nurse, working at the Magliolo Clinic in Dickinson for many years.
Nelda was preceded in death by her husband, Richard D. Diehl, granddaughter, Holly Faye, her parents; her sister, Debbie Berryhill, and brother, Darryl Driver.
She is survived by her daughter, Brenda Brock and husband John, son, Richard A. Diehl and wife Beth, her sister, Marlene Chamblee, five grandchildren, Cristi Finney, Tranette Whitfield and husband Brad, Julie Brinkley and husband Chad, Cari Pease and husband Jay, and Jennifer Bilger and husband Bruce, as well as eleven great granddaughters, one great grandson, and two great great grandsons.
In her honor a visitation will be held on Monday, October 16, 2017 at Crowder Funeral Home Chapel, Dickinson, Texas from 10:00 am to 11:00 am with a funeral service starting at 11:00am. Interment will follow at Forest Park East, Webster, Texas.