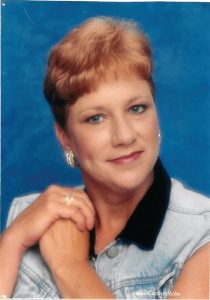 Nancy Pamela Lagan "Pam" died peacefully on March 16, 2018 in Pasadena, TX at the age of 62.
Pam is survived by her husband of thirty years, Tony Lagan; daughters: Anna Tarlton, husband Rick; Lacey Scofield, husband Brian; sons: Nathan Hale, wife Felicia, Shaun Lagan and Shane Lagan; grandchildren: Keith Tarlton, Justin Tarlton, Gunner Tarlton, Emma Grace Tarlton, Faith Tarlton, Tyler Hale and Alyssa Hale; sisters: Karen Ripple, husband Mike, Cindy Allsbrooks and Barbara Harbison, husband Leon; brother, Harold D. Trimm. She is preceded in death by her parents, Harry Trimm and Marjorie Caldwell Trimm and sister Kathleen "Kathy" Smith.
Pam was born on December 21, 1955 in Pasadena, TX to Harry Trimm and Marjorie Caldwell Trimm.  She married Tony in 1987, after they began working together at a check printing plant. The couple combined families and welcomed the twins, Shaun and Shane in 1989. She was a wonderful mother and Nana that always made sure her family was well cared for and she absolutely adored her grandkids who she would talk about to anyone willing to listen. She was a great story teller and loved to tell stories about when she was growing up. She was always available when you had a problem or concern to lend a helping hand or a friendly ear.
Pam was accomplished business owner of InkSpot Printing in Pasadena, TX. She had a witty sense of humor and loved to laugh and play pranks. She was most passionate about her family and friends. She was an active and dedicated member of the community and loved to contribute to the local food bank and pet adoption.
Services: Visitation will be held Wednesday, March 28, 2018 from 6:00 PM – 9:00 PM at Crowder Funeral Home, 2422 Broadway St., Pearland, TX 77581.
A Celebration of Life is scheduled for Thursday, March 29, 2018 at 11:00 AM at Faith Assembly of God, 3940 Vista Rd., Pasadena, TX 77504, with a reception to follow. Pastor Ronnie Jordan will officiate the ceremony. All are welcome to attend and celebrate Pam's life.
Please bring your memories or stories about Pam to share at the service. We will have a time for all to share what is in their heart. If you feel like you can't share it publicly then we would love for you to jot it down for us to share on your behalf. We want this to be a "true celebration" of Pam.
In lieu of flowers, please send donations to First United Methodist Church Food Pantry at 1062 Fairmont Parkway, Pasadena, TX 77504.