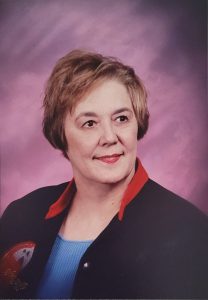 Nancy Lucille Neason was born on March 29, 1943, in Marshalltown, Iowa, to Wayne and Lucille Ingham, the oldest of two daughters.  Nancy grew up in the house that Wayne and Lucille built in Marshalltown and graduated from Marshalltown High School in 1961.
After high school, Nancy attended St. Luke's Methodist School of Nursing in Cedar Rapids, Iowa, where she met her lifelong friend Jan (Selk) Jurgens.  Nancy and Jan graduated from nursing school in 1964, got an apartment together in Cedar Rapids, and began their nursing careers.
In 1966, Nancy and Jan decided to move to Houston, where both took nursing positions at Methodist Hospital.  Nancy subsequently worked at the University of Texas Medical Branch Hospital in Galveston, Texas, where she earned a Coronary Care Nursing certification in 1969.
While in Houston, Nancy met Grant Neason, and they married in 1969.  They bought a house in Sagemont and had two boys together:  Eric Wayne Neason (1971) and Curtis Grant Neason (1973).
Nancy went on to work as the school nurse at Stuchberry Elementary in Pasadena ISD in 1977, where she worked until she retired in 2002.  Nancy made many great friendships at Stuchberry that continued with her for the rest of her life.
Nancy and Grant later divorced in 1978.  Nancy and her boys, Eric and Curtis, moved to an apartment in Clear Lake City.  Eric and Curtis fondly remember these days and all Nancy did to raise them on her own as a single mom – often working a second job in the evenings and weekends to make ends meet.
One of Nancy's proudest accomplishments was buying her house in Friendswood, Texas, in the summer of 1983.  She lived in that house she loved for nearly 40 years until she moved to St. Dominic Village in 2022.
In her 20 years of retirement, Nancy enjoyed arts & crafts, reading, and traveling.  She enjoyed watching sports on TV (particularly the Houston Astros and watching their 2022 World Series championship!), the home shopping network, and crime documentaries.  She also loved watching her grandchildren's various music and dance recitals.  Most of all, Nancy was incredibly proud of her five grandchildren and their accomplishments!
Nancy, age 79, passed away on Saturday, January 14, 2023, due to complications with a heart procedure.
She is survived by her children Eric Neason and his wife Gina of Spring, Texas, and Curtis Neason and his wife Chau of Bellaire, Texas.  She has five grandchildren that she loved very much:  Reid Neason, Rachel Neason, David Neason, Daniel Neason, and Everett Neason.  She is also survived by her sister, Kathy Elsberry, her husband Mark, and their children Jenni Clark and Jake Elsberry – all of Omaha, Nebraska.  She is preceded in death by her parents, Wayne Ingham and Lucille Ingham.
A memorial service for Nancy will be held on Saturday, January 21, 2023, at 4:00 PM at Crossroads (formerly Cokesbury) United Methodist Church at 10030 Scarsdale Blvd, Houston, TX 77089, with a reception immediately following at the church.