Nancy Jean (Bowen) Kelley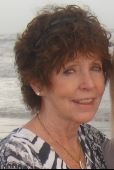 My beautiful wife and companion in life for forty wonderful years has gone to a better place. She was born in Painesville, Ohio on April 11, 1948 to James F. and Helen F. Bowen. She loved her god and has accepted his higher calling. She loved her friends; playing cards, bunko, Mexican train and sharing a glass of bubbly with them. But most of all she cherished her family. Reluctantly, she leaves behind me, our children; Lisa, Chris, David (2nd), Michael, and Lori, our grandchildren Matthew, Erica, Christina, Angie, Christopher, Zachary, David (3rd), Nicholas, Stephen, Courtney, Kaylee, Brendon, Julian and Dominic.
She was the best friend and wife a man could ever ask for and the most caring and compassionate person I ever met. She became an E.M.T. to protect her children as they grew up. She delivered 'Meals on Wheels' and volunteered at 'Helping Hands' distributing assistance to the needy in Richmond. She became a Eucharistic Minister giving comfort and communion to residents of local senior facilities and sewed blankets for preemies in the Clear Lake area. Even in the last few years, as she struggled with her fellow patients suffering through chemo treatments, she made and distributed comfort pillows to ease their strife.
Her wonderful smile, her sense of humor and huge heart will remain in all of our hearts forever. I loved her from the minute I met her and will adore her for the rest of my life. We will be together again. Her loving husband, Dave.
A Memorial Mass will be held on Thursday, December 1, 2016 at at 10 am at St. Mary Catholic Church, League City, TX 77573. Those wishing to make a memorial donation in lieu of flowers in Nancy's name may do so to St. Jude's Children's Hospitals.