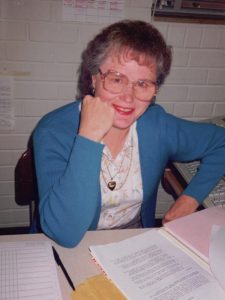 Nancy Anne Nugent Matson peacefully passed from this life on October 27, 2016 in Pearland, Texas.  Nancy was born on September 26, 1939 in Syracuse, New York to James William Nugent and Lucy Gertrude McLaughlin Nugent.  In June of 1956, she graduated from the Onondaga Valley Academy (high school).  She married Ronald C. Matson on September 16, 1961 and together they raised six children in East Syracuse-Minoa, NY.  Ron and Nancy moved their family to Tucson, Arizona in May of 1977.  Nancy worked as an office manager in a Tucson middle school and then at the Rincon Valley Fire Department in Vail, AZ after they moved there in the Fall of 1985.  After moving to Vail, she was able to fulfill a lifelong dream to have horses.  She joined the Tucson Saddle Club and with her trusty mustang, Havasu, began going on endurance rides in 1990 which led her to other rides and to eventually assisting in planning and executing them with Ron's help.  Her horses also led to her volunteering at Therapeutic Riding of Tucson, TROT, where she was a side-walker for the clients, assisted with research, and also with fund raising; earning a President's Award and many Dedicated Volunteer Awards. Later in life, she very successfully had her own pet sitting business in Vail, Arizona.  Nancy enjoyed gardening, her horses, and spending time with family and friends.
Nancy was preceded in death by her parents James and Lucy Nugent, her husband Ron, and son Chris Joseph Matson.  She is survived by her children Stephen Matson & Edie Figie, Linda & Tom Carrington, Karen Matson & Garry Shubert, James Matson & Denise Smith, and Robert Matson & Dawn Urankar; cherished grandchildren Serena Matson, Tim Matson, Elizabeth Carrington, Christopher Carrington, Lucas Matson, and Logan Matson; siblings Jean & Peter Casey and William & Ruth Nugent; many nieces and nephews, cousins, and close friends.
A memorial service for Nancy will be at St Mary's Catholic Church on Saturday, December 17, 2016 at 10 am. In lieu of flowers, may we suggest a donation in her memory to either Therapeutic Riding of Tucson (www.trotarizona.org) or the Alzheimer's Association (www.Alz.org).  Immediately following the service, a reception will be held at her son's home.
Service:
St Mary's Catholic Church
401 N Main Street
Minoa, NY 13116
1939 -2016