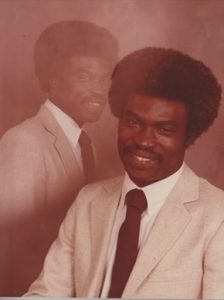 Muriel Dwight Fowler transitioned from this life to eternal life on April 21, 2022, at home with his family by his side.
Muriel was born on October 8, 1953, in Tulsa, Oklahoma.  He graduated from McClain High School in Tulsa, Oklahoma with the class of 1971.  He went on to attend Oklahoma State University, where he pledged Alpha Phi Alpha Fraternity.  He received his Associate Degree in Electrical Technology.
Muriel accepted Christ at an early age and attended St. Andrew Baptist church, where he was very active in all youth activities.  When he relocated to Texas he attended Hunter Chapel CME Church in Texas City, TX, with his wife, Virtle.
Muriel moved to Houston, Texas, in 1976, when he received a job offer from Lockheed Martin.  He worked at NASA Johnson Space Center for over 25 years as an electronic technician for various NASA contractors.  He later worked for the Harris County Jail as an Electronic Technician.
Muriel met his wife, Virtle Faye in 1976 and they enjoyed 46 years together.  Muriel's greatest joy was fishing, working in his yard, gardening, and enjoying the grandchildren and the great grandbabies.
Muriel was predeceased in death by his father, Audrey Smith of Tulsa, Oklahoma, grandparents, brother-in-law, sister-in-law mother-in-law and father-in-law.
Muriel is survived by his wife, Virtle Fowler of Friendswood, TX; his mother, Maud E.  Smith of Tulsa, Oklahoma; father, Theodore Williams (Mable), Bellevue, Nebraska; two daughters, Angelia Allen, Friendswood, TX and Rebecca Carter, Houston, TX; four grandchildren, Alessandro Dion Allen, (Ashley), Hitchcock, TX, Alessandria Allen and Adrianna Allen, Friendswood, TX; and Elijah Carter, Houston, TX. He was Popi to his two
great-grandchildren Armani and Adrian Allen, Hitchcock, TX
Muriel is also survived by his 7 brothers; Claude Fowler, Jeffery Smith, Terry Smith  (Helena) and Rodrick Smith (Sherry), Tulsa, Oklahoma; Carlton Smith, Oklahoma City, Oklahoma, and Lt. Col. Reggie Smith (Bridgett), Montgomery, Alabama; and Starvel (Chuck) Williams, Sr., Oklahoma; and 4 sisters, Audrey Williams, Kansas City, Mo; Tammy Thompson, Shawnee, KS; Carolyn Williams, Colorado Springs, CO; and Crystal Williams, Omaha, NE. Godchildren, Mark Simon, Galveston, TX, David Alcorn (Wyneisha), League City, TX, and Valencia Maxwell (Arthur), Texas City, TX. Other survivors are 7 brothers-in-law; 4 sister-in-laws of Texas; nieces and nephews, aunts and uncles of California and Oklahoma; and numerous cousins.
Honorary Pallbearers, The Brothers, Alessandro Allen, David Alcorn, Mark Simon, and Adrian Allen
Our Gratitude, The family of Muriel Dwight Fowler wishes to thank all of our family and friends for their support during his illness and during this time of bereavement.  Thanks to Rev. Jeffery Manuel and Hunter Chapel CME Church family.  A special thanks to the Oncology nurses and doctors at UTMB Galveston and A-Med Hospice for all of the good care that you gave our loved one.  Thanks to the Crowder Funeral Home staff for being so kind and thoughtful and loving our Aly.
From Your Wife
I wish I could see you one more time, Come walking through the door, But I know that is impossible I will hear your voice no more.
I know you can feel my tears, And you don't want me to cry. Yet my heart is broken because I can't understand why someone So precious had to die.
I pray that God will give me strength, And somehow get me through… As I struggle with the heartache That came when I lost you.
I will always love You Muriel
From Your Daughters
As we look back over rime, We find ourselves wondering… Did we remember to thank you enough For all you have done for us?
For all the times you were by our sides To help and support us… To celebrate our successes To understand our problems And accept our defeats? Or for teaching us by your example, The value of hard work, good judgement, Courage and integrity? We wonder if we ever thanked you For the sacrifices you made To let us have the very best? Ad for the simple things Like laughter, smiles and times we shared? If we have forgotten to show our Gratitude enough for all the things you Did, We are thanking you now. And we are hoping you knew all along, How much you meant to us.
Your Loving Daughters
Angie and Rebecca
From Your Grandchildren
Daddy, Yes we called you Daddy Why? You were only our Grandfather, But to us you were the Daddy when we need you. You were the one who taught me how to throw a ball, fish, Play basketball and was there to cheer me on (Dion). Camped out with me at night, even though I thought I could do it alone.  You even got in that too little swimming pool so I would not swim alone.  You were the go between for me and Granny, Especially when I was wrong. (Adrianna)
You help me pick up and brought rocks because you knew I was interested in them. You taught me about the stars by looking through you telescope.  You should me how a boy should treat his mother. (Elijah) When I was having a rough time just dealing with life, you put your Arms around me and give the love and courage that I needed to continue on. When my car was going crazy, you came out and put the battery charger on. (Aly) That is why we called you Daddy, because you showed us what a Daddy's love is. We are going to miss that love and care and you looking at us like we were crazy, But you did it out of love
Love your Grandchildren
Dion, Aly, Adrianna and Elijah