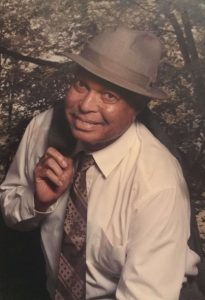 On April 6, 1925, Mr. Lenzy "Red" Gamble was born to Oree and Victoria Sherman Gamble at their home in Pine Bluff, Jefferson County, Arkansas. His beloved grandparents, George and Bozella Gamble, raised him from birth.
Mr. Gamble completed his formal education in Seattle, Washington. He served a few years in the U.S. Army.  After his military service, he attended Agricultural Mechanical and Normal College in Pine Bluff, Arkansas where he studied farming and horticulture.
In 1953, he moved to Texas where he was employed by Blimp Base Storage in Hitchcock, Texas and Smith Douglass Borden's chemical plant in Texas City, Texas. While at Smith Douglass, he was promoted to act as leadman to his coworkers.
Mr. Gamble was an amateur cartoon artist, skilled wood carver, and excellent metal engraver. He had an extraordinary memory for details and was a lifelong student of the Bible, history, current events, and science. He was a master storyteller and humorist. He had a winning personality and never met a stranger.
On November 20, 2021, Mr. Gamble left us due to natural causes.
He was preceded in death by his parents, grandparents, wife Marion Gamble, daughter Victoria Gamble McCullough, sons Ricky Wayne Gamble and Reginald Keith Gamble, granddaughter, Tolandra Gamble and grandson, Delorean Seth Gamble.
Mr. Gamble is survived by his sons; Russell Gamble, O.V. (Mickey) Gamble (Bert), Rodney Gamble (Terri), Gary Gamble (Lorene), Adrian Gamble; Daughters Dana McLead (Derron), Donna Tolliver, Derese Tolliver, and a host of grandchildren and great grandchildren.
The family of Mr. Gamble wants to express our deepest gratitude to the staff of Bayou Pines Care Center for their compassionate care and devotion to him.
A Virtual Service is scheduled for Saturday, November 27, 2021, 1:00 PM on Zoom
Meeting ID 813 6867 2519
Passcode 208784
Arrangements are in the care of the James Crowder Funeral Home, La Marque.