Mireille Madeleine Jeannine (Bettoni) Hairell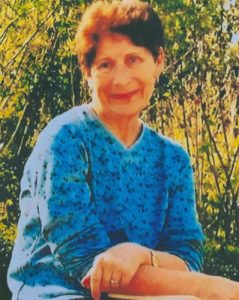 Mireille Madeleine Jeannine (Bettoni) Hairell departed this world May 30, 2022, at the age of 87 years, after many years of suffering from a chronic illness. She was the greatest Wife, Mother, and Best Friend.
She was preceded in death by her mother, Alice Bettoni, her father, Luigi Angelo Bettoni, and sister, Madeleine Louise Wells.
She is survived by her husband Charles A. Hairell and their two sons, John L. Hairell, is wife Terri and two sons, Brian and Matthew of Columbia, MD, and Glenn A. Hairell, his wife Betty, and daughter Julianna and son Ryan of Clear Lake, TX.
Mireille was born October 28, 1934, in La Chartre, France. Being that her mother was French, and her father was Italian, she grew up learning both Italian and French. She later learned Spanish and was very fluent in all three languages. She also learned English. It was in 1961 when she was 27 years old that she met the love of her life, Charles Hairell. They married in 1962 and after spending two years in Spain the family moved to California.
During the next decades Mireille raised their two sons while the family lived in several states and foreign countries. She loved to travel and saw many parts of the world. Mireille loved people, and never met a stranger. She loved gardening and cooking for her family.
For those of you that got a chance to know Mireille, she was a loving and devoted wife, and mother who treasured being a grandmother. Throughout her constant pain, she was a fighter and loved life and her family. We will miss her every day, but take comfort that Mireille is no longer suffering.
A Memorial Service will be held on Tuesday, July 19, 2022, from 11:30 am till 2:00 pm at University Baptist Church (in the Chaple), 16106 Middlebrook Drive, Houston, TX 77059.