Mildred Talkington Halbert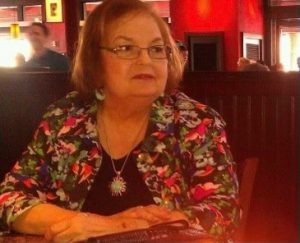 Mildred Talkington Halbert
January 7, 1937 – May 11, 2022
Noted music teacher Mildred Talkington Halbert died on May 11, 2022 in Houston of natural causes. She was eighty-five.
Mildred was the eldest of four children born to Estella McCarty Talkington and Clement H. Talkington in Jacksonville, Texas. When her younger sister Elizabeth, known as Ann, was sick as a child, Mildred helped their mother care for all the younger siblings, forming deep and loving relationships that lasted through their lifetimes.
Mildred attended East Texas Baptist University, where she earned a Bachelor of Arts in Music in 1958. While in college, the tall and striking Mildred worked as a fashion model but her life's calling was undoubtedly music.
Upon graduation, Mildred moved to Galveston County to teach music in the La Marque School District. It was there that she met her husband Robert Henry Halbert. They married in 1960 and soon started a family. After becoming a mother to daughter Allison — and, later, to son Randall – Mildred began teaching piano in a private studio in her home, which she continued to do for more than fifty years.
Mildred taught thousands of students, of all ages. She formed deep bonds with her pupils, many of whom she took under her wing and considered her "children." She ensured her students had two lessons a week, one at the piano and the other in music theory. She also offered her students "piano camp" to help them further build upon their skills during the summer. As a teacher, she was tough but inspiring and, as a result, many of her students won awards, both at the state and national levels. And, many went on to pursue careers in music at such prestigious institutions as Julliard. Mildred herself travelled to New York City to do graduate work at Teachers College at Columbia University.
Mildred was a member of the Texas State Music Teachers Association, a member and past president of Bay Area Music Teachers Association, as well as a member of the prestigious Phi Beta Kappa Music Honor Society.
Mildred was a gifted pianist herself. She could play anything on the piano, with hundreds of songs committed to memory. She was the longtime pianist at First Baptist Church in La Marque and, several times, performed as a guest with the Houston Symphony.
Mildred was a strong, independent and youthful spirit. She was known to be brutally honest (except with regards to her age). She was a force of nature with boundless energy and she dedicated most of that energy to others. When her husband was struggling with multiple sclerosis, Mildred became a caretaker in addition to her role as mother, grandmother and teacher. Taking it all in stride, Mildred still found time to maintain close and meaningful relationships with friends and extended family.
Mildred lavished her loved ones with affection, stories and music. She told vivid, inspiring tales about her childhood and enjoyed exploring her father's Cherokee lineage. She will be greatly missed by all who knew her but her legacy lives on in so many people and so many ways.
She is proceeded in death by her husband, her parents and her beloved brother, Dr. C.M. "Mack" Talkington. She is survived by Randall Halbert and his wife, Michelle Halbert, of Spring; Allison Johnson and her husband, Jay Johnson, of Kyle, Texas; sister Elizabeth "Ann" Ramazetti and her husband, Gene Ramazetti, of Spring, Texas; and sister Sue Talkington of Dallas. Grandchildren Stephanie Soileau and her husband, Stephan Soileau, of Concord, California; Matthew Mason of Houston; and Samuel Mason of Fort Worth. Step-granddaughter Lauren Mullins and her husband, MacKenzie Mullins, of Conroe, Texas. And her niece and five nephews Amy Talkington of Los Angeles, Carty Talkington of Los Angeles, David Ramazetti of St. George, Utah; and Steve Willmon, Jon Willmon and Jason Willmon of Benton, Arkansas. And sister-in-law Martha Halbert Willmon, also of Benton.
In addition to her loving family, Mildred leaves behind scores of past students who were wholly changed by her dedicated and passionate teaching.
Visitation will be held Sunday May 15, 2022 at Crowder Funeral Home, 1645 East Main Street, League City, Texas from 3pm-5pm with a reception to follow at Red River Barbeque 1911 E. Main St. B, League City, Texas.  Graveside will be held Monday, May 16, 2022 at 2pm at Houston National Cemetery, 10410 Veterans Memorial Dr. Houston, TX 77038