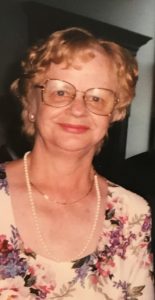 Mildred Annette Madsen was born in Brooklyn, NY on November 2, 1935 and passed away October 3, 2017 in Houston, TX.
Mrs. Madsen is preceded in death by her husband, Stanley Madsen; son, Glenn Madsen and brother, Frank Dahl.
She leaves behind her daughter, Carolyn Hodge, husband David; son, Mark Madsen; sisters: Solveig Pedersen, Ruth May Dahl and Else Aanonsen, husband Richard; brother, Arne Dahl, wife Nancy; seven grandchildren: Christopher, Michael, Tiffany, Tonya, Sean, Brittanie and Amber and 10 great grandchildren;
Family will be receiving guests on Friday, October 13, 2017 from 5-8 pm at Crowder Funeral Home in Pearland. Funeral service will begin Saturday at 11am in the chapel of Crowder Funeral Home. Burial to follow at Houston Memorial Gardens.