Michael Walter Jung "Mike"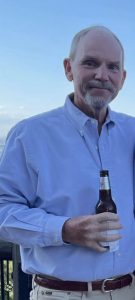 Michael Walter Jung "Mike", 61, passed away in his home surrounded by family on October 7, 2022. Michael was born in January of 1961 in Baltimore, MD to William Henry Jung Jr "Bill" and Eulalia June Love "June".
He leaves behind his daughter, Natalie Jung; son, Conor Jung; brothers: William Henry "Butch" Jung, III, wife Sharon, and Samuel "Sam" Jung; niece, Amanda Jung, husband Jeremy, and nephew, William Jung IV, wife Amanda. He is preceded in death by his parents.
Mike was raised in Jackson, Mississippi where he attended St Richards Catholic school. The family relocated to Richardson, Texas and eventually settled in El Lago, Texas in 1978. Michael is a proud graduate of the University of Houston. Upon graduation, Mike accepted a job with Chevron in 1985 and relocated to Concord, California. The family moved back to Houston in 1993 where Mike spent the remainder of his life.
He was employed for over 37 years at Chevron as a Financial Analyst. He was incredibly passionate about his work and was looked to as mentor for many. During his time with Chevron he had the opportunity to travel for business to Australia and Scotland. His impact was far reaching as he worked with groups around the globe, including in Malaysia and the Philippines. Mike also served on the board of directors for the CTECU Credit Union.
Mike was an amazing, supportive, and devoted father. He was a die-hard Houston Astros fan and a long-time season ticket holder for Houston Cougar football. He loved to golf and played many incredible courses during his life, including St Andrew's in Scotland. Mike enjoyed riding his bike, regularly averaging a hundred miles a week. He loved to travel, taking his kids on trips all over the country and in Europe, providing treasured memories of time spent exploring.
Mike will be remembered fondly by those who loved him for his kindness, generosity, and humor. He made everyone feel welcomed and loved to swap stories over a beer or two. He will be profoundly missed and his legacy will live on in our hearts.
In lieu of flowers, please make memorial contributions to Boy Scouts of America, https://donations.scouting.org/