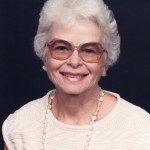 Melicent Tolar Hull, 91, passed away December 30, 2013 after a short illness at her home in Friendswood, Texas. She was born on Feburary 9th, 1922, in Young Harris, GA as the second child to Sampson Boone Tolar and Florance Hudgens Tolar.
Melicent was preceded in death by her parents, husband, Nace Hardin Hull, brother, SB Tolar, Jr, and grandson, Hal Bailey Howard. She leaves behind a brother, Retired Colonel Robert Tolar, four sons and their wives, Robert and Susan Hull, James and Betty Hull, John Hull and Laura Ewing, Dr. Jeff and Rev. Rebecca Hull. Melicent loved her grandchildren Sarah Walton, Brittany Black, Christina Hull, Jonathan Nace Hull, Benjamin Ewing Hull, Brian Hull and Elizabeth Hull
Melicent graduated from Peabody University and began working in Knoxville, TN where she met and fell in love with Nace Hardin Hull. They had a loving and caring relationship throughout their lives. They moved to Pasadena and raised their four sons who were active in sports and community activities. The "boys" spent their days outside playing, but they always heard their mother's dinner bell and came running.
Melicent's family was her life. There were never any more perfect children, grandchildren, and great grandchildren than hers. She and Nace spent each summer visiting his family in DeKalb, Mississippi, and hers in Young Harris, Georgia. Her children remember many special summers visiting the family homes as they grew up. As daughters-in-law joined the family, she adopted an interest or hobby of each one to develop a stronger bond. For many years the family gathered on Sunday evenings to enjoy time together and her excellent cooking.
Melicent loved to read and to research. She used her skills serving as a reference librarian for the Pasadena Public Library for many years. After retiring she continued to index the past Pasadena Citizen newspapers for the library, so that people would find it easier to reference events in Pasadena history.
She has always been the rock upon which the family stood and will be missed by all. Her family is thankful for the years they shared with her here on earth.
A Memorial Service will be held Saturday, February 8, 2013 at 11:00 a.m. at Crowder Funeral Home in Pearland, TX. Memorials may be sent to the "Pasadena Friends of the Library" or Young Harris College.