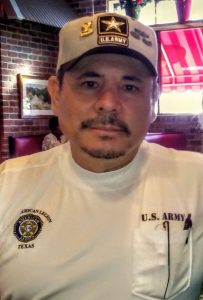 Max Falcon Guzman, 55, of La Marque passed away on January 25, 2017 in Houston, Texas.  He was born in Galveston, Texas to Raymond and Eva Guzman.
Max was a veteran of the US Army and a member of the American Legion and Legion Riders.
He is preceded in death by his father Raymond Guzman, Sr.; brothers: Domingo F. Guzman, Robinson Guzman and San Juan "John" Guzman and his sister, Evaline Parson.
Max is survived by his wife Eva Stalnaker Guzman, mother Eva Guzman, sisters: Guadalupe "Lupe" Rodriguez, Isabel Martinez and William Cannon, Carolina Mayeaux and Helen Wilson; brothers: Benito F. Guzman (Rosa), Raymond F. Guzman, Jr., and Ruben F. Guzman; numerous nieces, nephews, great nieces, great nephews, and other extended family and friends.
A visitation will be Wednesday, February 1, 2017 from 5:00pm – 8:00pm with a Vigil at 7:00pm at the James Crowder Funeral Home in La Marque.
Funeral Service will be at 11:00am on Thursday, February, 2, 2017 at St. Mary of the Miraculous Catholic Church of Texas City.  Burial will follow at Hayes Grace Memorial Park Cemetery in Hitchcock, Texas.
Honorary Pallbearers will be Benito F. Guzman, Raymond F. Guzman, Jr. and Ruben F. Guzman.