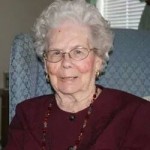 Mavis Marie Buchanan Delaune passed away October 13, 2014, in League City, Texas. Mavis, the oldest of eight children, was born November 4, 1927, in Robertson County, Texas to Frank L. and Gladys M. Buchanan.  She grew up in Robertson County until her final year of high school, when her family moved to Texas City.  She graduated from Texas City High School in 1944.  In 1946 she married Sylester J. Delaune, and they raised five children in La Marque, Texas.  Mavis loved family gatherings, and she loved to bake. You would seldom go to her home when she didn't have some kind of sweet treat to offer.  She worked for a number of years for Harvey's Jewelry Store in La Marque before retiring.
Mavis was a charter member of Queen of Peace Catholic Church and was active in the Queen of Peace Ladies Guild.
She was preceded in death by her parents; husband, Sylvester J. Delaune; son Donald J. Delaune; brothers, Harold Buchanan and John "J.C." Buchanan; sisters, Juanita Miles and Betty Wingate; and son-in-law, Billie W. Fritch.
Mavis is survived by her children, Cathy Summerville (Gary), Gary Delaune (Andrea), Tina Fritch and Dennis Delaune (Ray); brothers, Lewis "Buddy" Buchanan, Curtis Buchanan (Wanda) and Robert Buchanan (Elizabeth); and sister-in-law, Lillie Boudreaux.  She is also survived by her grandchildren, Matt Summerville (Andra), Nick Summerville (Julie), Chris Fritch, Aaron Fritch (Amanda), Jeremy Delaune, Timothy Delaune and Jonathan Delaune; great-grandchildren, Logan and Cole Summerville, Brayden Fritch and Addyson Fritch and numerous nieces and nephews.
The family would like to acknowledge A-Med Community Hospice for the loving care they gave to Mom.
A visitation will be held Tuesday, October 14, 2014 from 5:00pm to 6:00pm followed by a Vigil service at 6:00pm at the James Crowder Funeral Home, La Marque, Texas.  A Funeral Mass will be at 10:00am on Wednesday, October 15, 2014 at Queen Peace Catholic Church in La Marque, with Father Chacko Puthumayil officiating. Burial will follow at Mt. Olivet Catholic Cemetery in Dickinson, Texas.
MawMaw was always proud of her grandsons, and they will serve as pallbearers.
In lieu of flowers, contributions may be made to Queen of Peace Catholic Church, 1200 Cedar Drive, La Marque, Texas   77568.