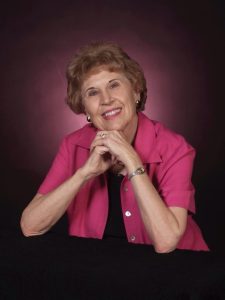 MAVIS CARALENE LEWIS, 86, was born at home on her family farm in Hart, Texas on August 11, 1936. She passed away peacefully in the comfort of her home in Pearland, Texas on March 17, 2023. Mavis was the first-born child of Hubert and Alene Lilley. She attended Hart schools and resided in Hart until 1967 when she moved to Houston, Texas. Mavis had a love for home décor and became an interior decorator. She always had a love for the Lord and felt a calling on her life at a young age. In 1973, she acted on that calling and went on her first missionary trip to Mexico. Over the next few years, she made several trips to Mexico, Africa, Japan, Switzerland, England, and other parts of the world. In 1981, while accompanying a fellow missionary to California, she met the love of her life, Dr. Elwyn Lewis. Their first date was on September 1, 1981, a trip to Disney World.  They were married October 25, 1981, resided in Anaheim, California, and pastored together at the Living Word Church, until 1989. They moved to Houston, Texas in 1992 where they served at Grace Community Church. In 2004, they started and nurtured Kingdom Living Church Ministries International. Together, they have ordained and mentored over 50 pastors; serving the Lord was Mavis's love and passion.
Mavis, also known as Grandmother, Grandma, and Gigi, loved to watch her family grow and supported all their activities, which involved all areas of sports and competitive dance. She was an avid reader and enjoyed studying and learning all areas of the Gospel. She was very creative and enjoyed painting, refurbishing furniture, decorating, sewing, and gardening.
Mavis was preceded in death by her parents, Hubert and Alene Lilley, her daughter, Radonda Diane Davis (3-08-1957), and her younger brother, Fred Janes Lilley (12-16-2011).
She is survived by her husband, Dr. Elwyn Lewis; her younger sister, Jean (Lilley) Freeman; children: Lonny Davis, daughter-in-law Cindy, daughter, Kimberly (Davis) Cummins, son-in-law Herbert Cummins, Bonus son Phil Lewis and daughter-in-law Elaine; grandchildren: Jay Davis and wife Roxanne, Shane Nance and wife Amy, Joshua Nance and wife Brooke, Kailey Cummins, Kaileb Cummins and wife Bethany, Rachel (Lewis) Barkar and husband Ashish, Sara (Lewis) Dexter and husband Thomas; great grandchildren: Katelyn (Nance) Kroesch and husband John, Peyton Nance, Haydn Davis, Kendall Nance, Kylie Nance, Sequin Davis, Kayden Nance, Kolten Cutler, Braxton Cummins, and Kambrey Cummins, Trulee Dexter, Oliver Dexter, and Jaysen Barkar; great-great grandchildren: Kinley Ann Kroesch and Karter Olivia Kroesch (May 2023).
Mavis will be deeply missed. She is with our Lord in Heaven; whole, healthy, happy, and complete. We are grateful for the time we had with her.
A visitation will be held from 6 p.m. to 8 p.m. Friday, March 24, 2023 at Crowder Funeral Home in Pearland. Funeral service will begin Saturday, March 25, 2023 at 11 a.m. in the chapel of Crowder Funeral Home in Pearland. Burial to follow at Forest Park East Cemetery in Webster.
Pallbearers are grandson's, Jay Davis, Shane Nance, Joshua Nance, Kaileb Cummins, Kayden Nance, Kolten Cutler.