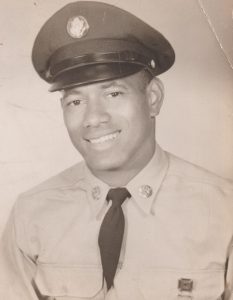 On November 11, 2023, our Heavenly Father wrapped his loving arms around Maurice E. Hobson and gently guided him home. Thank you, Lord, for your loving grace and mercy.
Maurice E. Hobson Sr. was born on May 15, 1940, in Manakin, Virginia, to the late Eleanor and Matthew Hobson Jr. He attended elementary and high school in Englewood, New Jersey, after moving there at the age of six. After completing high school, he received a full scholarship to Texas Southern University for track and field. While at Texas Southern, he was recognized as a world class half- miler on their highly accomplished track team.
Maurice served two years in the United States Army. Upon an honorable discharge, he completed his degree at Texas Southern University, in physical education. Soon after graduation, he was employed with Goodyear Corporation in the chemical division, as a chemical operator. He was employed for close to 30 years, until his retirement due to disability.  Over the years he became known for his devotion to family and friends, volunteer work, and love of sports. He was also known for his love of playing dominoes…and a good debate. While he committed many years of service to Good Year, his greatest passion came from the love of children.
From his first union came two children, Maurice (Moe) Hobson Jr., and Monique Johnson. After rekindling their friendship at homecoming in Englewood, N.J, Maurice wed Joan Hobson. Joan was a devoted wife and cared for Maurice throughout his illness, up until his passing.
Preceding him in death, are his siblings Henry Hobson, Barbara Jean Davis, Percy Leon Hobson.
Maurice leaves to cherish his memory, his loving wife Joan. Children Maurice Hobson Jr. and Cuca Hobson, Monique Johnson and Marquis D. Johnson Sr. Stepdaughter Joy Barnosky and Stephen Barnosky. Nine grandchildren Margarita (Anique) Hobson, Destiny Johnson, Maurice Hobson III, Mia Johnson, McKenzie Hobson, Marquis D. Johnson Jr., Emerson Barnosky, Morgan Barnosky, Rory Barnosky. Beloved great-granddaughter Kai Burton.  One sister Bernice Robinson. Brother Matthew S. Hobson III and Audrey. Two sisters-in-law, Bernise Coley, Dr Jeanne Rance and one brother-in-law, Redell Clark and Mary Devoted nephew and niece Damon Hobson and Felicia. Cousin Frances (Butch) Hobson, and a host of nieces, nephews, and friends.
On Sunday, November 19, 2023, Maurice's family will greet guest from 1:00 pm to 2:00 pm, with a Funeral Service following at 2:00 pm, at Crowder Funeral Home, Webster, TX. Following the funeral service, a Repast and time of fellowship will be held, family and friends are welcome.
On Monday, November 20, 2023, family and friends will meet for a final viewing from 7:00 am to 7:45 am at Crowder Funeral Home, Webster, TX. The Funeral Procession will depart at 8:00 am for a 9:00 am Graveside Service with Military Honors (US Army) at Houston National Cemetery, Houston, TX