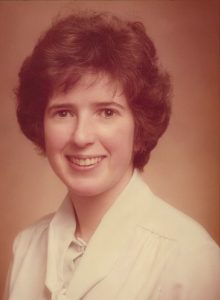 Maureen Elizabeth Daily, 66, passed away suddenly on March 11, 2023, in Houston, Texas. Maureen was born in Denver, Colorado on May 29, 1956, to F. Regis Daily, Sr., and Betty Kane Daily. Maureen relocated to Clear Lake City in 1981 from Greeley, Colorado, where she spent her childhood. She is survived by her sisters, Sheila Daily Dell'Osso of Clear Lake City, Marcee Daily Chipman of Vichy, France and her brother, F. Regis (Jayar) Daily, Jr., of Houston, along with seven nieces and nephews and eighteen grand nieces and nephews, each of whom were the highlight of her life.
Maureen graduated from Greeley Central High School. She received her Bachelor of Arts in Education from Loretta Heights College in Denver, Colorado. At the time of her death, she was a few months short of retirement from MD Anderson, where she worked for the last 25 years as a Research Data Analyst for blood diseases. Maureen was dedicated to her career and including her previous employment at the UT Health Science Center, she was just shy of completing 40 years of service in the Houston Medical Center working for the University of Texas.
Maureen was very devoted to her family and loved spending time with her many friends. She enjoyed traveling, playing duplicate bridge, bunco and reading. She was a longtime member of the P.E.O. Sisterhood, which she thoroughly enjoyed, along with her Book Club. Maureen was also an active member of St. Bernadette Catholic Church in Clear Lake since moving to Houston.
In lieu of flowers, the family suggests donations to the Leukemia and Lymphoma Society or to the charity of your choice. For the Leukemia and Lymphoma Society, please mail donations to Leukemia and Lymphoma Society, Gulf Coast Chapter, 5433 Westheimer Rd., Suite 300, Houston, TX 77057, or donate online at LLS.org.
Visitation will be at Crowder Funeral Home, 111 East Medical Center Blvd., Webster, TX 77598  Thursday evening, March 16th beginning at 6pm, followed by the Rosary at 7pm.  Funeral Mass will be Friday, March 17th at St. Bernadette Catholic Church, 15500 El Camino Real, Houston, 77062 beginning at 10:30am.  Please feel free to wear green in honor of St. Patrick's Day, one of her favorite holidays.