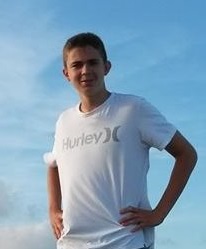 Mason Daniel Curlee was born on August 20, 1997.  He graduated from Santa Fe High School in June, 2016 and was excited about his future.  He recently started a new job at HEB and had plans to further his education possibly in the medical field.  Mason was born into fishing family and was an avid fisherman.  He was doing what he loved, fishing, on the very day the Lord called him home on August 24, 2016.
Mason is survived by his parents: Daniel (Danny) Curlee and Jennifer Gehret Locke; his four sisters: Danielle Curlee and fiance' Randy Herrin, Gabrielle Curlee, Abigail Locke and Destinie Adkins.  He is also survived by his grandparents: Carolyn and John Hartnett, Shirley Alvarado, Fred Hatcher, Bubba Curlee; great-grandmothers: Mae Volkman and Ruth Gehret.  He leaves behind numerous aunts, uncles, nieces, nephews, cousins, and friends as well as his beloved dog, Daisy May.
He is preceded in death by his grandfathers: Eugene Gehret and Tony Alvarado; and great-grandfathers: Oscar Volkman and B.B. Gehret.
We give thanks for this wonderful young man who gave us so much joy and made us laugh.  We will continue to smile as we cherish our memories of him.  We know this is what he would want us to do.
The Lord is close to the brokenhearted and saves those who are crushed in spirit." Psalm 34:18
Services will be held at Crowder Funeral Home: 401 Texas Ave. (FM 1765), LaMarque, TX 77568.  The Family will receive visitors Wednesday, August 31, 2016 5:00PM to 8:00PM.  Funeral Services will be held Thursday, September 1, 2016 at 10:00AM.  Burial will follow at Galveston Memorial Park Cemetery.  In lieu of flowers, the family asks that you consider a donation to Turning Point in Mason's name.  Turning Point makes outdoor activities such as fishing, kayaking, etc. readily available to people with mobility impairments and physical challenges.
The family would like to express sincere appreciation to the Santa Fe Police Dept. and Galveston County Sheriff's Dept. and all of the family, friends, and community for their efforts.  The outpouring of kindness has been uplifting and encouraging.  Thank you all very much.