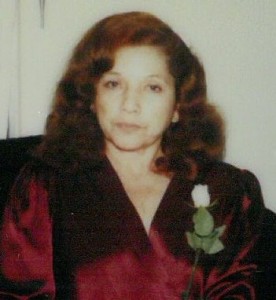 Mary Sanchez Perez, 85, of Texas City passed away on Monday, September 28, 2015 at her residence. She was born on March 25, 1930 in Alvin, Texas to Pasqual and Emilia Sanchez.
Mary was a lifelong resident of Texas City and attended St. Mary of the Miraculous Catholic Church. She had a love for family, friends and Country and Western Music.
She is preceded in death by her parents; her daughter Mary Lou Fuentes; two sisters and two brothers.
Mary is survived by her special partner Richard Ruiz; daughters, Hope Martinez and Jeanna Ynigez (Trini); sons, James Perez and Raymond Martinez, sisters, Alice Arevalo and Mary Ellen Hosea, eleven grandchildren, numerous great grandchildren and great-great grandchildren.
Visitation will be on Friday, October 2, 2015 from 5:00pm – 8:00pm with a Rosary at 7:00pm at the James Crowder Funeral Home in La Marque. Funeral Mass will be on Saturday, October 3, 2015 at 2:00pm at St. Mary of the Miraculous Catholic Church in Texas City with Rev. Clint Ressler officiating.
Pallbearers will be Jimmy Perez, Eric Perez, Adrian Perez, Roland Perez, Trey Perez and John M. Walker.
Honorary Pallbearers will be Phillip Martinez, Manuel Martinez and Trinidad Villarreal.