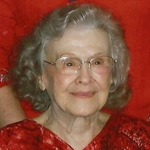 Mary Neshyba, 97, of Hutchinson, Kansas, passed away peacefully on Wednesday August 6, 2014.
She was born November 21, 1916 in Chicago, Illinois, the fourth child of 14 to Mary and Valentine Gwazdacz, both of whom emigrated from Poland to Chicago. Shortly thereafter the family moved to Mosinee, Wisconsin where they operated a dairy farm. Some of her earliest and fondest memories were of being raised on that farm, but the harsh winters were difficult so the family moved to San Diego California. There she met Victor P. Neshyba, a young marine, who she eventually married. Living a military life led them on many adventures in many places, including Berkeley, CA in the 1940's, to the East Coast, and to Iran. After Victor completed his military service, they lived in Fort Worth, Texas, then ultimately settled in Dickinson, Texas, which they considered to be "home". Together they had nine children, born throughout the world but all raised in the Catholic faith, all attended Catholic elementary schools, and all graduated from college.
Mary was a talented seamstress, making many of her family's own clothing. She studied voice and loved to sing, especially hymns. She also was an accomplished artist and painter and decided to seek the formal education she was not able to have in her youth. She pursued a Bachelor of Fine Arts degree at the University of Houston which she successfully earned in 1977. She continued her oil painting into her later years, and was actively involved in the Texas City Art League.
Mary and her family were members of the Shrine of the True Cross Catholic Church for 45 years and were active in almost all aspects of the parish at one time or another. Mary attended mass on a daily basis, and was active in the Altar Society, serving as Treasurer. Mary was a devoted wife, mother, grandmother and great grandmother who lived a long and fulfilling life with a deep abiding and devout faith in the Lord.
She is survived by seven children and their spouses: Victor, Jr. & Elizabeth Neshyba, Janice & Andy Pico, Valiant & Sandy Neshyba, Michele & Jim Thompson, Dolores & Brian Bird, Keith & Bonny Neshyba, and David & Rosemary Neshyba. She is also survived by 29 grandchildren and many more great-grandchildren. She was preceded in death by her husband Victor P. Neshyba, son Ronald Neshyba, and daughter Mary Lee Neshyba.
Viewing: Monday, August 11, 5:00-8:00 PM, with recitation of the rosary at 7:00 PM, Crowder Funeral Home, 851 FM 517 West. Dickinson, Texas
Celebration of Life and Mass: Tuesday, August 12, 10:30 AM, Shrine of the True Cross Catholic Church, 300 FM 517 East, Dickinson, Texas, with burial to follow at Mount Olivet Catholic Cemetery, 7801 Gulf Freeway at Hughes Road, Dickinson, Texas.
In lieu of flowers, donations may be made in Mary's name to Birthright International.