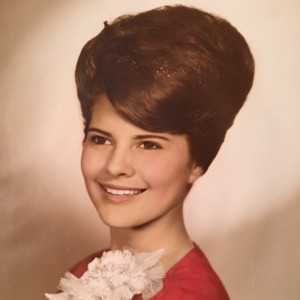 MARY LYNNE BEHNE, 70, a resident of Texas City, Texas, passed away on March 8, 2016. She graduated from Texas City High School in 1964. Mary was active with her Texas City High School Gotcha Girls, The Pearland Green Tee Country Club and she was a parishioner at Mary Queen Catholic Church in Friendswood. Together, with her beloved husband Edward L. Behne, she helped build Tex-Air Helicopters to be one of the largest helicopter companies in Houston.
Mary Lynne was a breast cancer survivor. A committed volunteer, she connected with patients and their families offering guidance, direction and hope in times of desperation and despair. She was a beacon of light and the heart of her family, extended family, and friends. She has a unique gift of making everyone feel like family and friends.
Mary Lynne and her beloved Ed most enjoyed entertaining while out on their ranch in Brackettville, Texas. More recently, she enjoyed sharing her Texas Hill Country retreat in Campwood, Texas with her children, grandchildren, extended family and endless number of friends.  She loved Paris and she generously shared her enthusiasm for travel and adventure.  Perhaps one of her favorite past times was bringing everyone together for celebrations of love, life and traditions. The world lost a gentle, loving spirit and generous soul.
Mary has been preceded in death by her husband, Edward L. Behne; daughter, Sherri Gonzalez; father, Raymond B. Lopez; brothers: Raymond Lopez Jr. and Robert Lopez; grandchild, Patrick Swords.
She is survived by her mother, Guadalupe Lopez; daughter, Tanya Davis and husband Kevin; sons: Jimmy David Gonzalez Jr. and wife Lorena and Mark Adrian Gonzalez; 11 grandchildren: Jimmy David Gonzalez III, David Gonzalez, Christopher Gonzalez, Victoria Gonzalez, Natalie Gonzalez, Sherri Gonzalez, Adrian Gonzalez, Mathew Gonzalez, James Swords, Jack Roland, and Bradley Roland; 3 Great grandchildren: Aile Gonzalez, Van Swords and Bo Swords; brother, Richard Lopez and wife Maria; sisters: Martha Ramos and husband Gilbert, Anita Alzandua and husband Eli.
A visitation will be held tonight, Friday, March 11, 2016 from 5pm-8pm with a rosary at 7pm in the chapel of Crowder Funeral Home in Pearland.  Funeral mass will begin on Saturday, March 12, 2016 at 2pm at Mary Queen Church in Friendswood.