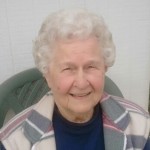 Mary Louise Schutz, 83, passed away Thursday, August 28, 2014 in Texas City. She was born November 4, 1930 to Jacob and Frances Weis in Evanston, Illinois. Mary is preceded in death by her parents; husband Thomas F. Schutz; brother, Francis Weis; She is survived by her children: Mark T. Schutz of La Marque, Dane T. Schutz (Judy) of Texas City, Sandra Cronholm (Richard) of Blanco, Wade T. Schutz of La Marque, Paul T. Schutz (Marnie) of Tarkington Prairie; 13 grandchildren; and numerous great grandchildren.
Mary was a sales clerk at JC Penney's in Texas City for many years. Her favorite hobbies were crocheting and knitting. She also loved holding backyard swimming parties and camping with her family. Later in life she enjoyed feeding the neighborhood cats, dogs and birds.
A visitation will be held on Saturday, August 30, 2014 starting at 9:30AM at the James Crowder Funeral Home in La Marque, TX with a service to follow at 11:00AM. Interment will follow at Mt. Olivet Catholic Cemetery. Officiating, the service will be Mary's son, Paul Schutz.
Pallbearers will be her granddaughters: Danielle, Mandy, Erica, Jesica, Lauren, Breanne, Shandon, Kim, Valerie, and Ashley.
In lieu of flowers, donations can be made to the Bay Area Pet Adoptions at 3000 Ave. R, San Leon, TX 77539.