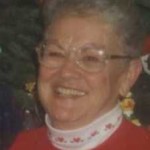 With her 4 daughters and family by her side through it all Mary Lou Dues, our momma and precious "GiGi" peacefully slipped away from this life on August 28, 2014. She is preceded in death by her husband and love of her life for 62 years Jimmie Dues and her parents, and her brothers Rudy, James and Waylon Harrison.
She is survived by daughter Debbie Dues Kilgore, her husband Jackie, grand-children Kellye and Danny Dobbs, Kacie and Ryan Searle, Kyle Kilgore and great granddaughters Delilah Dobbs, Sophie and Emma Searle. Daughter Donna Dues Sarpolus, grandchildren Tony and Sarah Sarpolus and great grandson Liam Sarpolus. Daughter Denise Dues Ward, her husband David, grandchildren Meredith and Brad Harris, Bill Ward and great granddaughters Charlotte and Camille Harris. Daughter Dayna Dues Snyder and husband Paul, grandsons Sam, Will and Luke Snyder. She also leaves behind another 70 or so Dues and Harrison family members, cousins, nieces, nephews and friends too many to count.
Mary Louvinia Harrison Dues was born May 9, 1932 to Eula Mae and Luther James Harrison in Calhoun County, Arkansas. Her family later moved to Dickinson, Texas where she attended Dickinson High School, was a cheerleader and graduated in 1949. While there she meet a handsome football player named James Anthony (Jimmie) Dues. She was baptized at Shrine of the True Cross Church on December 20, 1949 and they were married there on September 16, 1950. Their years together in Dickinson were made up of God, church, family, friends and much happiness. She worked for the Galveston County Mosquito Control District for twenty five years. We'll more closely miss her at our family gatherings but most of all we'll miss her wonderful smile and the warm loving greeting she always gave us. We rest assured she goes to a better place to be with her Lord and her loving Jimmie. We love you mom.
Visitation and Rosary will be held from 6p.m.-8 p.m. Monday evening September 1, 2014 at Crowder Funeral Home in Dickinson, Texas. Funeral Mass will be held at Shrine of the True Cross Catholic Church on Tuesday, September 2, 2014 at 10:30 a.m. with interment following at Mt. Olivet Cemetery in Dickinson. Kyle Kilgore, Sam Snyder, Bill Ward, Tony Sarpolus, Will Snyder, and Luke Snyder will serve as pallbearers.
In lieu of flowers, memorial donations may be made to Camp Hope, PTSD Foundation of America, P.O. Box 690748, Houston, TX 77269 or to Star of Hope Mission, P.O. Box 1505, Houston, TX 77251-1505.