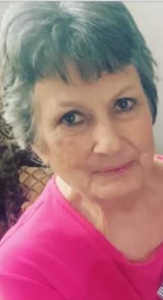 Mary Lou Broome Powledge, 78, passed from this life into eternity with Jesus Christ on April 24, 2022, in Houston, Texas.  Mary Lou was born on January 24, 1944, in Houston, Texas and grew up in Galena Park, Texas. She was preceded in death by her parents, Elza Ray Broome and Vernita Poindexter Broome Rice; sister Joyce Melder; eldest son, Adam Wayne Powledge; grandchildren Jacob Ryan, Christian Blake, Rachel Elizabeth and Isaac Austin Powledge.
Surviving Mary Lou are her sister Mae Deane Ferguson of Buna, TX; daughter Laura Williams and husband Michael  of League City, TX; sons Steven Earl Ray Powledge and wife Carrie and Ronald Jason Powledge of League City, TX; and daughter-in-law Doris Phillips and husband Toby of Dickinson, TX; grandchildren Patricia Jean Holliday and husband Zack of Houston, TX, Samantha Nehls and husband Brian of League City, TX, Amber Colvin and husband Dustin of Calhoun, LA, Austin Powledge and wife Ellie of Livingston, TX, Peyton Powledge of Santa Fe, TX, Ashlyn Powledge of Santa Fe, TX, Dalton Powledge of League City, TX, Colton Williams and wife Lindsey of League City, TX, Christian Williams of League City, TX, Zachary Williams and wife Katie of Hillsboro, OH, Hannah Williams of Fort Mitchell, KY and Trevor Williams of Webster, TX; great-grandchildren Kalia, Ryder and Rhea Powledge, Blakely Brock, Ezekiel and Ezra Holliday, Molly and Jack Nehls, Hudson Colvin, A.J., Grayson, Aurora and Griffin Williams and Kylin and Lelan Williams.
Mary Lou graduated from Galena Park High School in 1962 where she formed life-long friendships lasting more than 60 years.  After earning a bachelor degree in Journalism from the University of Houston, she worked as a writer/editor in the health care and oil/gas industries for more than 30 years earning numerous awards for her writing.  Her greatest joys in life come from her faith in Jesus Christ, her children, grandchildren, great grandchildren, sisters, extended family and church family.  She attended First Baptist Church Friendswood, where she helped lead a nursing home ministry for several years.
Visitation will be held Monday, May 2nd, at 10:30am at Crowder Funeral Home at 1645 East Main St., League City, TX 77573.  Funeral services will be immediately following at 12:00pm with Pastor Moe Mays officiating. Following Mary Lou's service, graveside burial will be held at Grand View-Memorial Park/Bethany Cemetery at 8501 Spencer Hwy, Pasadena, TX 77505.