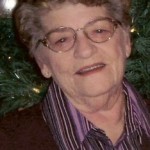 Mary Lee Jones, 80, born March 3, 1934 and passed away May 6, 2014 in Pasadena, TX. She was a resident of Pearland, formerly of Canyon Lake. Mary was a property manager in the San Antonio area and The Property Owner's Treasurer to Canyon Lake Estates. Her top priority was being a mom. She raised 4 strong and independent children. Her passion was gardening, bird watching, feeding the deer and rum cake on request.
Mary is preceded in death by her husband Robert Jones, son, Mark Alan Jones, parents, Leslie and Minnie Smith and Daisy and George Worley.
She leaves behind to cherish her memories, her children: Bruce and wife Honey Jones, Allison and husband Michael Adams, Tracy and husband Randy Ross, Vanessa and husband Robert Stup; sisters: Marva, Angela, Katie, Leslie-Ann; brother, Sam and 5 grandchildren and 2 great grandchildren.
A visitation will be held on Monday, May 12, 2014 at 1pm with a service to follow at 2pm in the chapel of Crowder Funeral Home in Pearland.