Mary Jane "Mimi" Ott Hill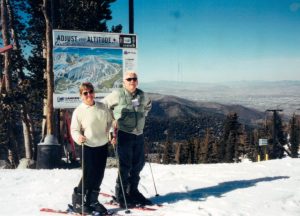 Mary Jane "Mimi" Ott Hill, passed away early Sunday morning February 20, 2022. She was 90 years old.
A resident of Nassau Bay since 1967, Mimi was born in Bellingham Washington to parents Evelyn and Tony Z.  She is survived by her loving husband, Gene E Hill, sons and daughters, Rick, Kris, Kirk and Trina, her nine grandchildren, sister Barbara Davis, and her beloved terrier, Daisy.
Mimi graduated from Bellingham High School and attended University of Washington in Seattle.  She studied political science and was a member of Chi Omega sorority.  It was then that she became a bridge player and golfer, two of her lifelong activities.  She loved to ski at Mt. Baker and passed her love for skiing on to her children.  She enjoyed dozens of ski trips with family over the years.  One of her many dreams was to ski and play golf with her grandchildren and she did.  She also traveled the US as a Navy wife and later enjoyed travelling everywhere with her cherished husband Gene.
Mimi had a degree in psychology from the University of Houston at Clear Lake.  She was a dedicated member of St. Paul's the Apostle Church in Nassau Bay, a full-time mother to four active kids and a habitual golfer at Clear Lake Country Club and South Shore Harbour Country Club.  She was a past Club Champion and she founded the annual Eileen Collins Invitational tournament at South Shore. Mimi met Gene at Houston's Glenbrook Golf Course in the 70's when she began working there.  Together they enjoyed many years of travel, skiing, golfing, entertaining, laughter, greyhounds by the pool and long walks along the beach in search of unique shells and the perfect sand dollar.
Visitation is Thursday, February 24th at Crowder Funeral Home at 1645 E. Main Street  in League City, from 3:00 to 5:00 pm followed by a prayer service.  A memorial mass is planned at St. Paul the Apostle Catholic Church in Nassau Bay on Thursday, March 31st.
Mimi loved Nassau Bay and often walked around the lake and visited the Animal Shelter.  In lieu of flowers, donations may be made to "City of Nassau Bay Animal Shelter" and mailed to 1800 Space Park Drive, Suite 200 Nassau Bay 77058 or online at the City of Nassau Bay website nassaubay.com