Mary Jacquelyn Kirkpatrick Wille (Jacki)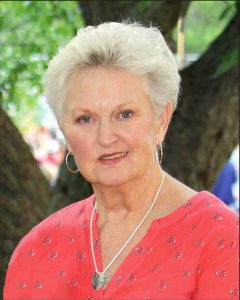 Mary Jacquelyn Kirkpatrick Wille (Jacki), passed away suddenly and unexpectedly on August 8, 2022, while vacationing in Maine, at the age of 81. Jacki was born on November 23, 1940, in Houston, Texas. She was the third and youngest child of Harvey Lee and Aileen Speed Kirkpatrick and was the apple of her daddy's eye. Because of her mother's never-ending wanderlust, Jacki and her family spent most of her childhood moving from one part of Houston to the other. She attended Houston Vocational and Technical High School in Houston and in 1957 married the love of her life, John Emile Wille, who she met on a blind date despite him being her girl friend's date! Always the bold and daring one, she slipped her phone number to John during the date and the rest was history. Jacki and John were married for 64 wonderful years.
In spite of having moved multiple times in her childhood, or maybe because of it, Jacki had a true talent for taking a house and making it a home. She was a devoted mother and raised her two daughters, Pam and Darla, to believe in themselves and to be independent. The loving home  she created was admired by many and treasured by her family. Jacki was a marvelous cook and took being a homemaker to a new level. She learned to sew, embroider, crochet, knit, and quilt, all while supporting her girls at piano and dance recitals, sporting events, and volunteering in her community. And somehow, even found a little time to spend in her garden, honing her green thumb over the years and earning bragging rites for Yard of the Month many times. She was also an accomplished baker and cake decorator. She was the ultimate hostess. She loved entertaining during the holidays, especially Christmas, and she made sure that each holiday was steeped in family tradition.
As her children grew older, Jacki entered the workforce as an executive secretary at an overseas drilling company. Her job there provided her with the opportunity to travel overseas, and her trips to Paris and London were some of her fondest memories. She went on to work as an accounting supervisor, and later, she and John opened a successful Diet Center in League City, where she developed many lasting friendships while helping others on their weight loss journeys. Jacki's excellent baking skills were once again needed when she and John partnered with their daughter Pam to open a coffee shop in New Braunfels, Texas.
Jacki was an avid Houston Astros fan and often spoke of the first Colt 45's game she attended. She watched every game and was convinced that if she crossed her fingers and stayed focused, she could change the outcome of the game in the Astro's favor. It often appeared she was on to something, too! Baseball was not the only sport she enjoyed. She and John began playing golf upon his retirement, and she quickly became known as "Down the Middle Nancy!" Although not a long-ball hitter, she could put the ball in the middle of the fairway every time! She and John enjoyed many golf trips with friends. Just like her mother, Jacki was blessed with the wanderlust gene. The first family vacations were camping trips in a maroon Ford Mustang with a pop-up trailer in tow but quickly graduated to camping trips to Tennessee, California and beyond, and ski trips to Colorado. Jacki enjoyed trips all over the country, even experiencing her favorite holiday, Christmas, in New York with her daughter Pam who considered her the best travel buddy. Jacki and John shared one other love and that was their precious pup, Gabby. Gabby was Jacki's constant companion and "snuggle buddy" and there is little doubt she will miss her mom terribly.
Family was the thing Jacki valued the most, a lesson she learned from her father, and she was excited and proud when she became a Nana to granddaughters Cameron and Jacquelyn and grandsons August and Leighton and over the moon to become a Great-Nana to her three great-grandsons, Vincent, Patrick and Roman. Her family believes that "Great" is the perfect adjective to describe Jacki and if you were to ask those who knew her to describe her, the words you would most likely hear are, "classy," "beautiful," "special," "sassy," "successful," and the like. And yes, she was all of those. But she was also the best mother and nana we could ask for, a loving, faithful and devoted wife and a fierce, dependable and loyal friend. She was the keeper of family histories and stories, as well as the protector of family traditions. The last house that Jacki called home was located in the same small town of Jacinto City, TX where her and John's love story began so they could be closer to their daughter Darla and their grandchildren. She will be truly missed by all who knew and loved her.
Jacki is survived by her daughters Pamela Faith Wille and Darla (David) DiStefano, as well as her grandchildren Cameron (Edward) Medina, August (Priscilla) DiStefano, Jacquelyn DiStefano and Leighton DiStefano. Nana, as she was called, also absolutely adored her three great-grandsons, Vincent Medina and twins, Patrick and Roman DiStefano. She is preceded in death by her husband John Emile Wille, her parents, her sister Betty Jo Sweeney and her brother Glenn Maurice Kirkpatrick.
The family will greet friends and family at a visitation on Thursday, August 18, 2022, from 6:00-8:00 p.m. Funeral services will be conducted on Friday, August 19, 2022, at 11:00 a.m. All services will be held at Crowder Funeral Home, 1645 E. Main Street, League City, TX77573. The family would like to invite everyone to a luncheon at Red River BBQ, 1911 E. Main Street, League City, TX. immediately following the service.