Mary Frances Paschke Pyka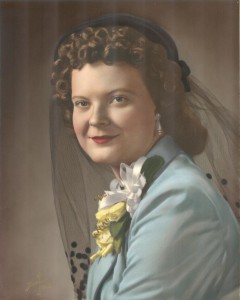 A memorial visitation will be held on Tuesday, May 5, 2015 from 5 to 7 pm at Crowder Funeral Home, 111 E Medical Center Blvd, Webster, TX 77598.
Mary Frances Paschke Pyka, the fifth of seven children born to Henry Frederick Paschke and Elsie Barnes Paschke was born on March 8, 1927 in Atchison, Kansas.  She grew up in Topeka, Kansas where she graduated from high school and then went to work as a PBX operator.  She met Edward Carl Pyka on a blind date; they fell in love and were married on September 30, 1954.  Their daughter, Mary Ann was born in Tucson, Arizona.  Eddie was career Air Force so the family traveled the world. They lived in Alsborough on the North Sea in England, San Francisco, California and settled in Houston, Texas in 1962.  Mary went to work as a PBX operator for Fannin Bank in Houston which she enjoyed very much.  On March 25, 1999, Eddie passed away. After a time of great grieving, Mary began to travel the world once again with her girlfriends, exploring the US, Canada, France and Europe.  After retiring she enjoyed volunteering for her church, St. Frances Cabrini and at St. John Hospital.  During her life she enjoyed sewing, smocking and embroidery. She made doll clothes for Mary Ann's Barbie and dresses for the rest of the family. She made her home at the Terrace at Clear Lake in Webster, Texas until March 10, 2015 when her health started to fail.  Mary Frances was reunited with her beloved Edward at 7:22am, May 1, 2015 as white winged doves welcomed the dawn.  Her parents and six siblings also welcomed her home.  She will be sorely missed by her daughter, Mary Ann Pyka Matthys and her husband, Curtis William Matthys.  Mary Frances had a passion for her grandchildren and will be missed by Amanda Renee Matthys, Michael Aaron Matthys and Michael's wife, Holly Duke, great granddaughter, Chloe Grace Chopcinski and many family members in Kansas.