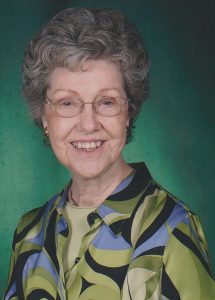 Mary Etta Arnett, 85, of League City, Texas, passed away at 10:25 AM, Monday, January 23, 2017 at The Cottages assisted living center in League City, TX. She was born January 21, 1932, in Guion, Arkansas to the late Harry Herman Hodges and Beatrice Ola Hodges. She married Alvis "Al" James Arnett on February 15, 1950.
She is survived by her daughter, Deborah Kubiak, of Houston, Texas; two sons, James Michael Arnett and wife Leah Arnett, of Cypress, Texas, and Jason Arnett and his wife, Stephanie, of Houston, Texas; a sister, Rudene Sapp and her husband, SA Sapp, of Sealy, Texas; four brothers, Gerald Hodges and his wife, Imogene, of Conroe, Texas; Carl Hodges of Hearne, Texas; Roy and Verna Hodges of Clute, Texas; and Herman and Kay Hodges of League City, Texas; twelve grandchildren Stephanie Kubiak Hall, Robert Kubiak, Jr., Chris Arnett, Melissa Arnett, Christopher Arnett, Talor Arnett, Kerstin, Tracy, Brenden, Taylor LeAnn; Nicolas, and Miles;  ten great-grandchildren, Cole, Kale, Koy, Grace, Everyly, Piper, Michael, Holly, Emma, Paige; numerous nieces and nephews. She was preceded in death by her husband, Al Arnett and four brothers: Edwin, Harold, Carold, and Dennis Hodges.
Memorial services will be conducted at 11:00 AM, Friday, January 27, 2017 at Crowder Funeral Home, 111 E. Medical Center Blvd., Webster, Texas, with Minister Ralph Bryant officiating. A graveside service will be conducted following the service at Forest Park East Funeral Home, 21620 Gulf Fwy, Webster, TX.
The family will receive friends Friday, from 10:00 AM to 10:45 AM at the Crowder Funeral Home. In lieu of flowers, memorials may be made to the A*MED Hospice Care, 8901 Emmett F Lowry Expy, suite B, Texas City, Texas 77591. (1.800.377.7260)