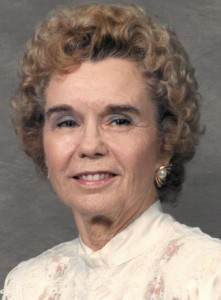 Martha Lee Mazzantini, 90 of La Marque, passed away Friday, April 3, 2015 at her residence. Martha was born January 5, 1925 in Waverly, Louisiana, the daughter of Elisha J. Womble and Sallie A. Dean Womble. Mrs. Mazzantini was a resident of La Marque for over 59 years, a member of First Baptist Church of La Marque and was a Sunday school teacher for many years. She was a member of the Galveston Islandettes fast pitch softball team and after moving to La Marque in 1956, helped organize the La Marque Girls Softball League in 1957. She also was an avid bowler participating in state and national tournaments while serving for 35 years as an officer and founding member of the La Marque – Texas City Ladies Bowling Association. She was recognized at the state tournament in Lubbock, TX in 2001 for competing in 42 state and 35 national tournaments. She was selected as "Woman of the Year" in 1964 for involvement in youth sports after her teams won state titles in boys and girls bowling and girls softball. She also was a member of the Mainland Medical Center Hospital Volunteer Group for the last 25 years. Martha is preceded in death by her parents, her sisters Marian Womble Bethune and Tommy Ray Womble, and her husbands Nick Mazzantini and Carl Townsend.
Martha is survived by her son Greg Mazzantini and wife Susan of League City, TX; her daughter Gail Mazzantini Carter and husband John of Lubbock, TX; and her brother Billy Dean and wife Charlene of Baton Rouge, LA. Mrs. Mazzantini had five grandchildren: Matt Mazzantini and wife Charmaine of Austin, TX; Gina Sweeney and husband Doug of League City, TX; Nick Carter and wife Lauren of Round Rock, TX; Kristen Sublett and husband Tyler of Norman OK; and Jarrod Carter and wife Stacy of Lubbock, TX. Mrs. Mazzantini had nine great-grandchildren: Gemma, Isabella, Annemarie, Gregory Charles, Landry, Everett, Bailey, Brooke, and Ben as well as numerous other relatives and friends.
Visitation will be Tuesday, April 7, 2015 from 6:00 pm to 8:00 pm at the James Crowder Funeral Home in La Marque. Funeral Services will be 10:00 am Wednesday, April 8, 2015 in the Chapel of the James Crowder Funeral Home, with Jerry Esmond, officiating. Interment will follow at Hayes Grace Memorial Park in Hitchcock, Texas.
Pallbearers will be Matt Mazzantini, Nick Carter, Jarrod Carter, Jim Bethune, Tim Perry, Charlie Bethune, Steve Willard and Gary Bolton. The family would also like to thank Walt Crowder with A*MED Healthcare Group and his nursing staff of Emmajean, Christina, and Paula for their dedicated and loving care.